Phir Hera Pheri Meme Templates
Phir Hera Pheri is a sequel of Hera Pheri which is released in 2006 and won the heart of millions of people.
People's favorite trio nailed it again in Phir Hera Pheri as Akshay Kumar as Raju, Paresh Rawal as Baburao Ganpatrao Apte (Babaubhaiya), and Sunil Shetty as Ghanshyam (Shyam) by their phenomenal acting!
Paresh Rawal got nominated in International Indian Film Academy Awards as Best Comedian for Phir Hera Pheri movie and also nominated for Filmfare Awards!
Phir Hera Pheri is incomplete without their other cast Rajpal Yadav as Pappu, Bipasha Basu as Anuradha, Milind Gunaji as Nanji Bhai, Johnny Lever as Munna Bhai, Sharat Saxena as Tiwari, Kiku Sharda as Kanji, And Manoj Joshi as Kachra Seth.
There are millions of people (Memers) who make memes by using these unforgettable dialogues and Phir Hera Pheri Meme Templates from the Bollywood comedy movie Phir Hera Pheri.
After getting an overwhelming response, fans are super excited for the sequel titled Hera Pheri 3!
Now you can watch Phir Hera Pheri Movie Online on Prime Video
Checkout
Here are the Phir Hera Pheri Meme Templates And Dialogues:
Akshay Kumar as Raju
Beta ek zamana tha jab hum bhi garib hua karte the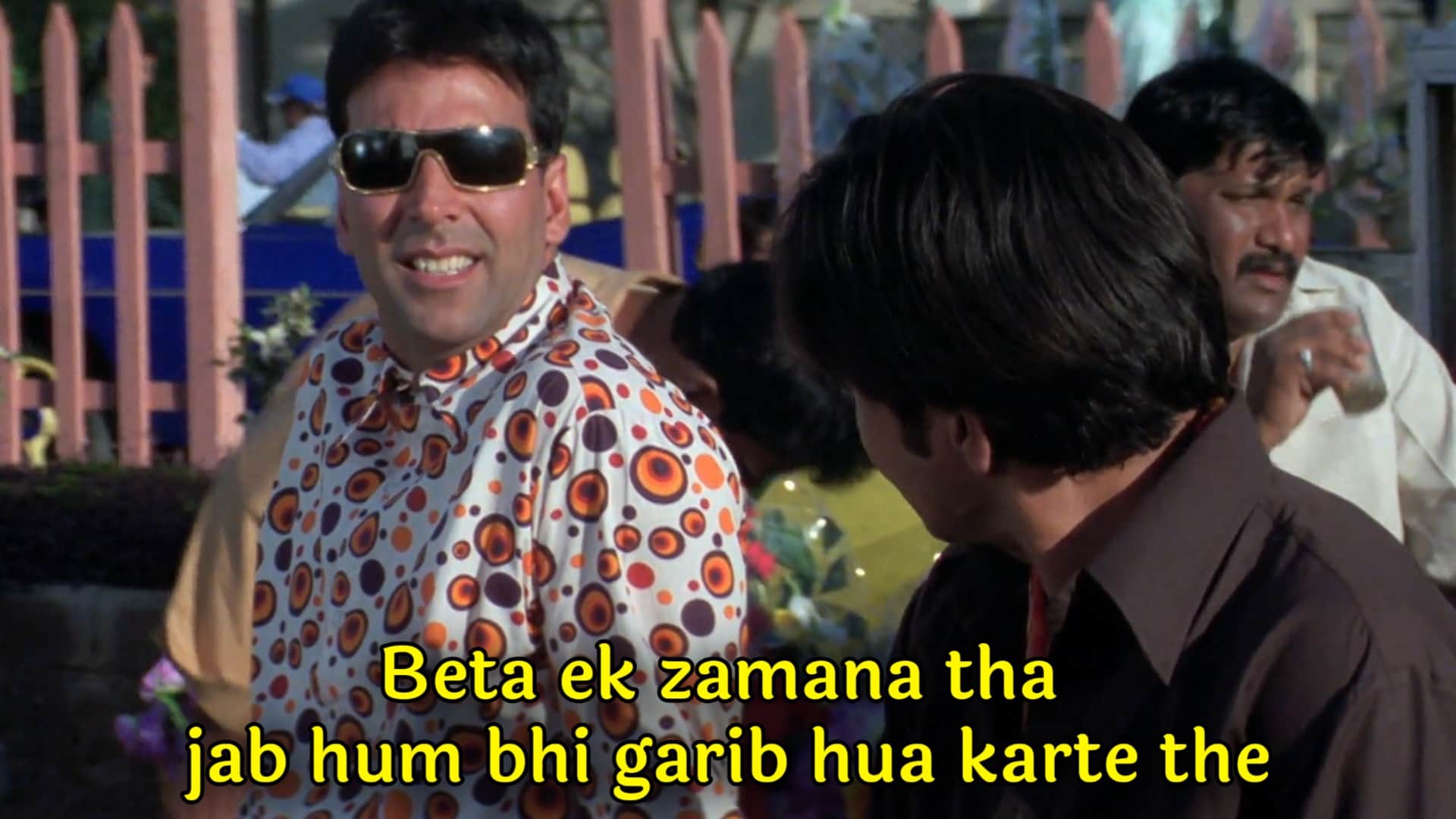 Amir bano amir ye garibo wali aadat kab chodoge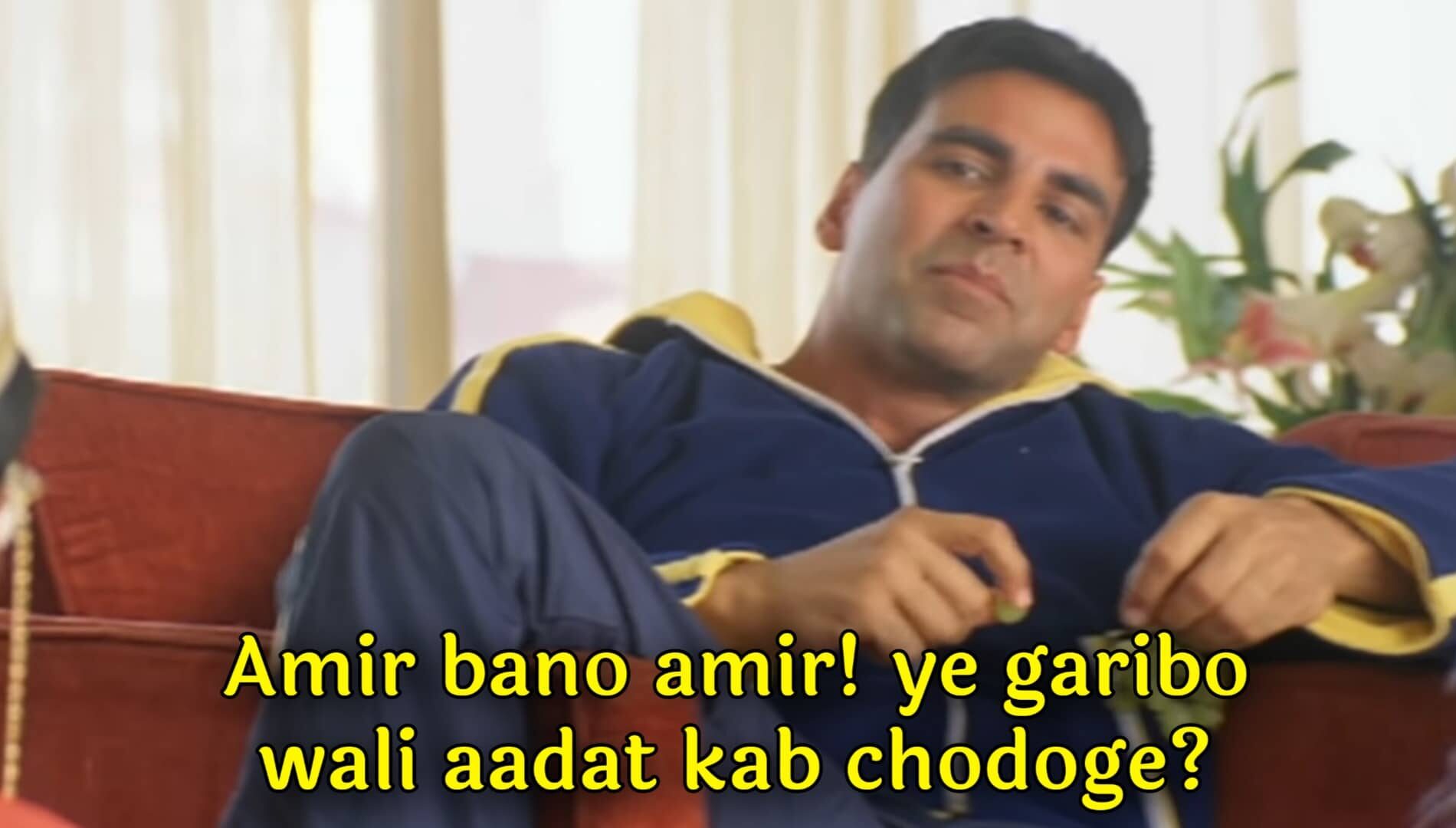 O sarak sarak udhar

Yeh sceme kisi aire gaire nathhugaire ke liye nahi hai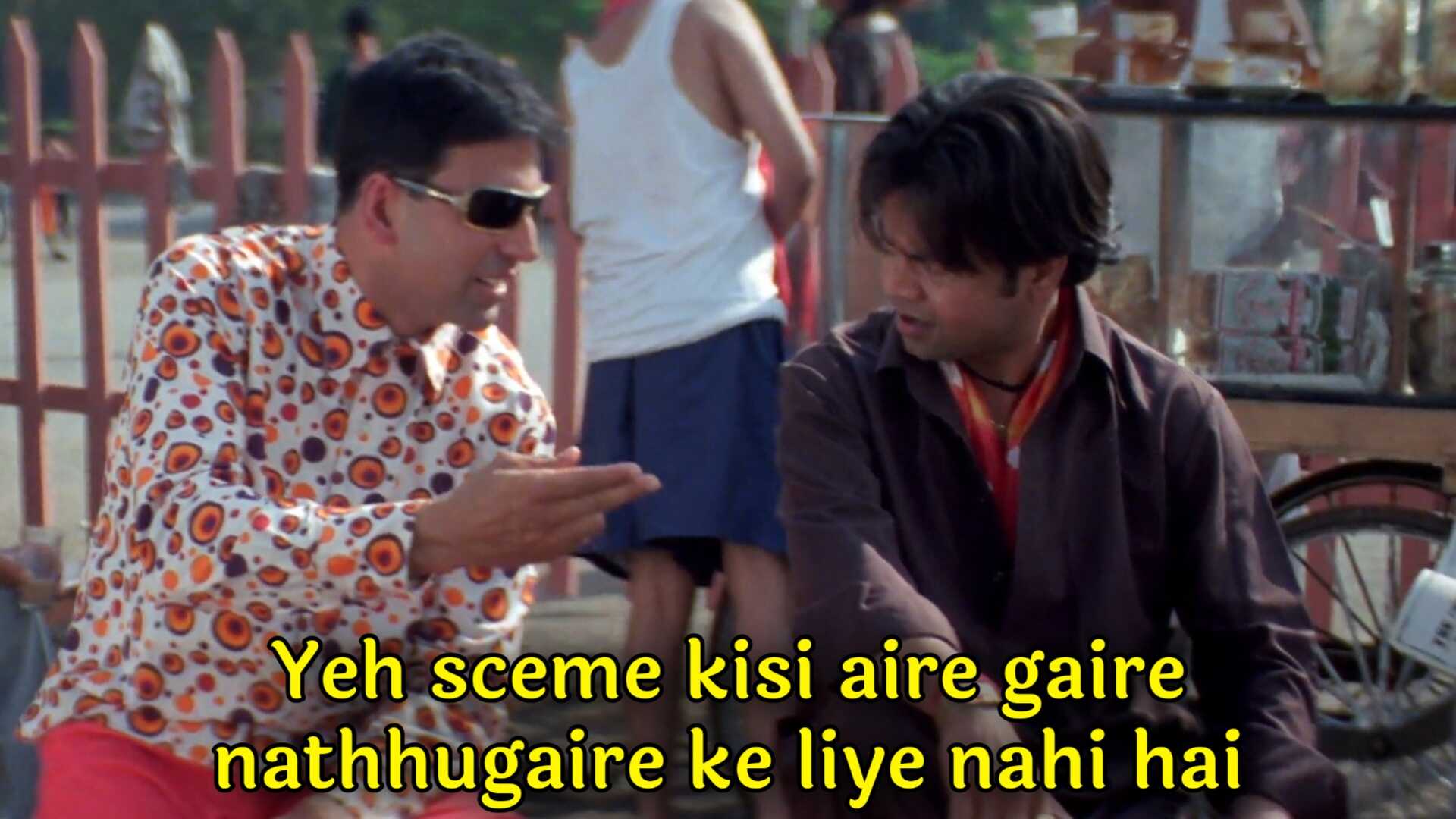 25 din mai crorepati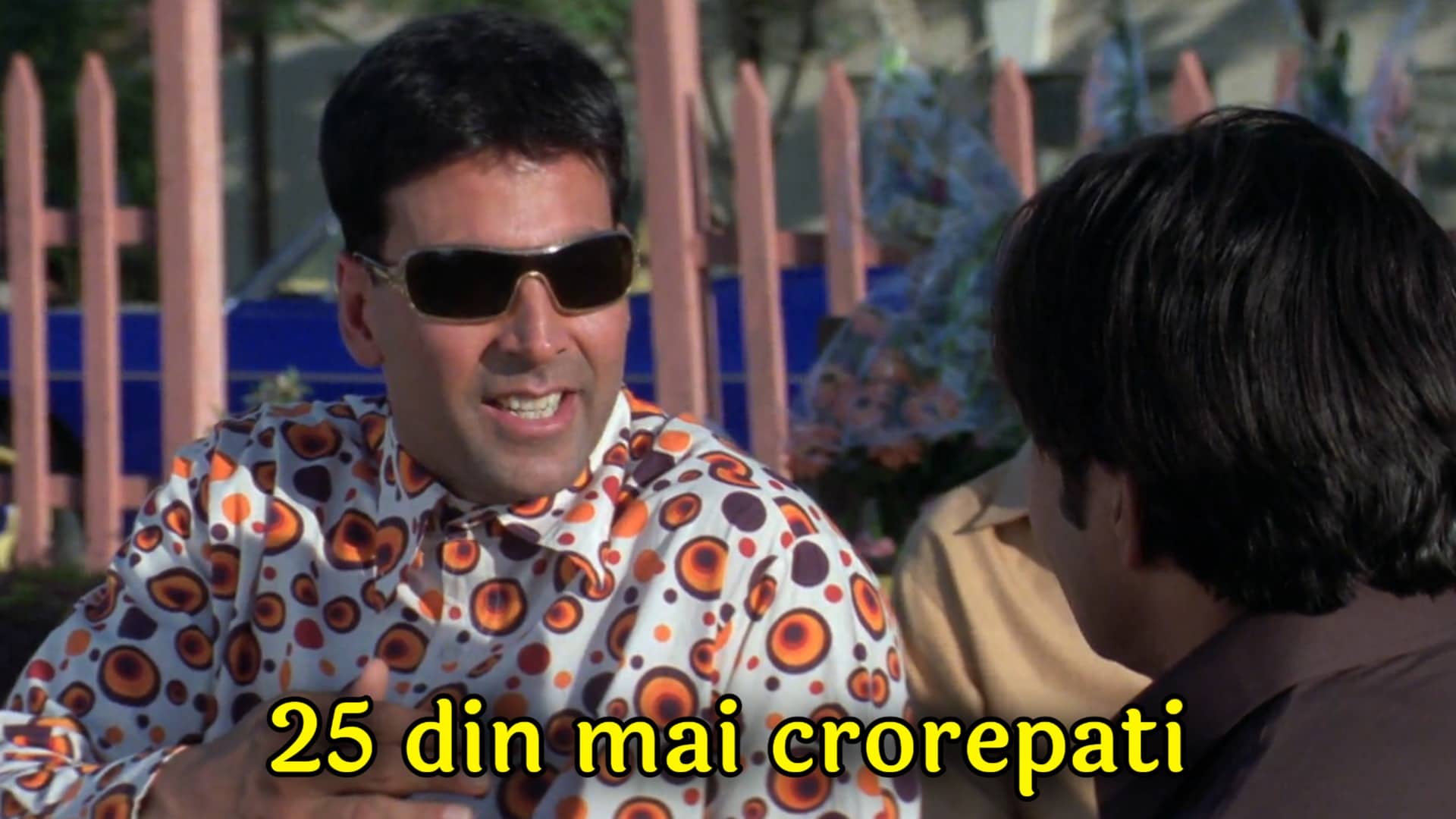 25 din mai paisa double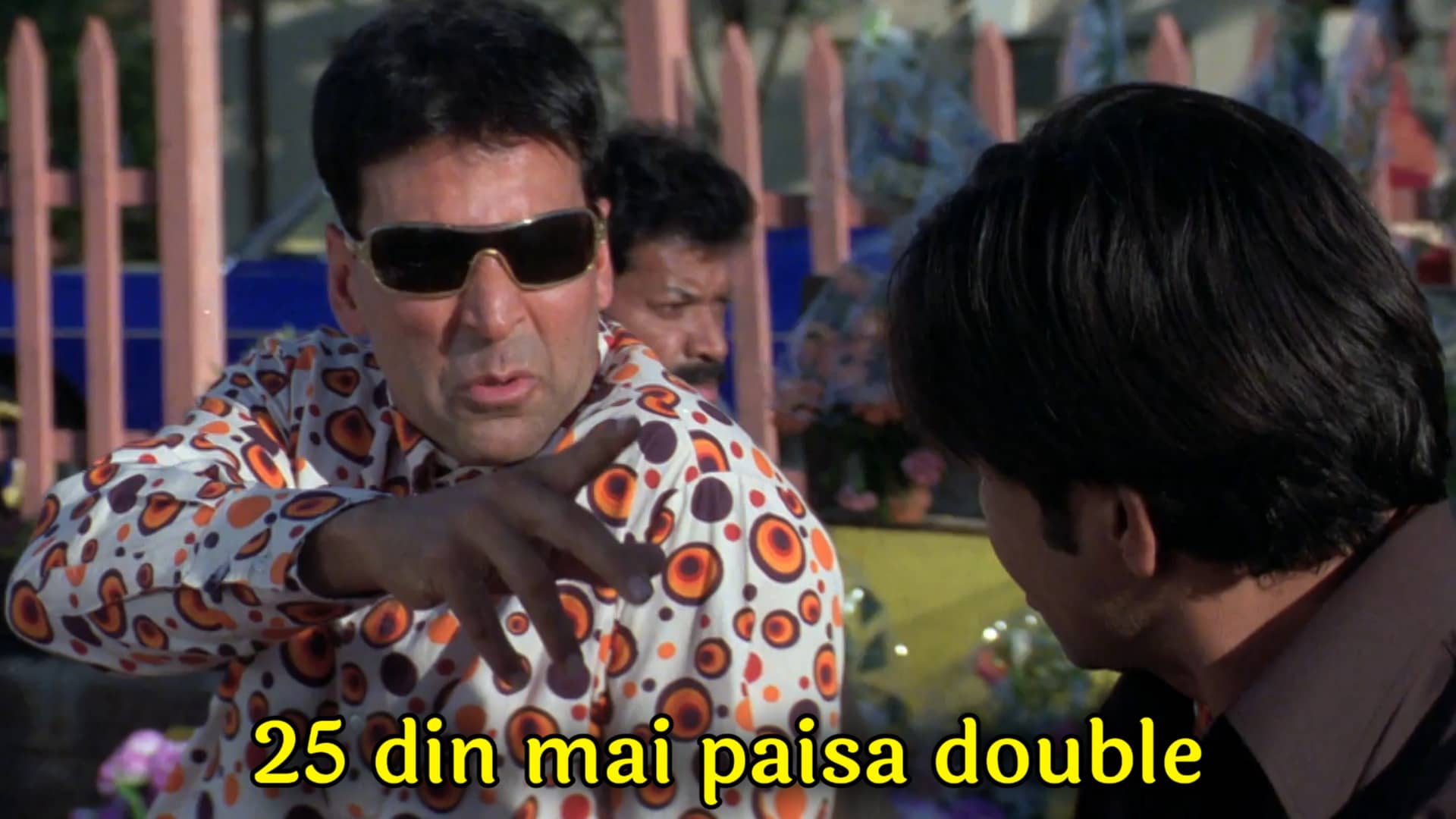 Raju happy face 

Tu ja ye scheme tere liye hai hi nahi

Yeh kaafi difficult course hai kaafi kam log kar paate hai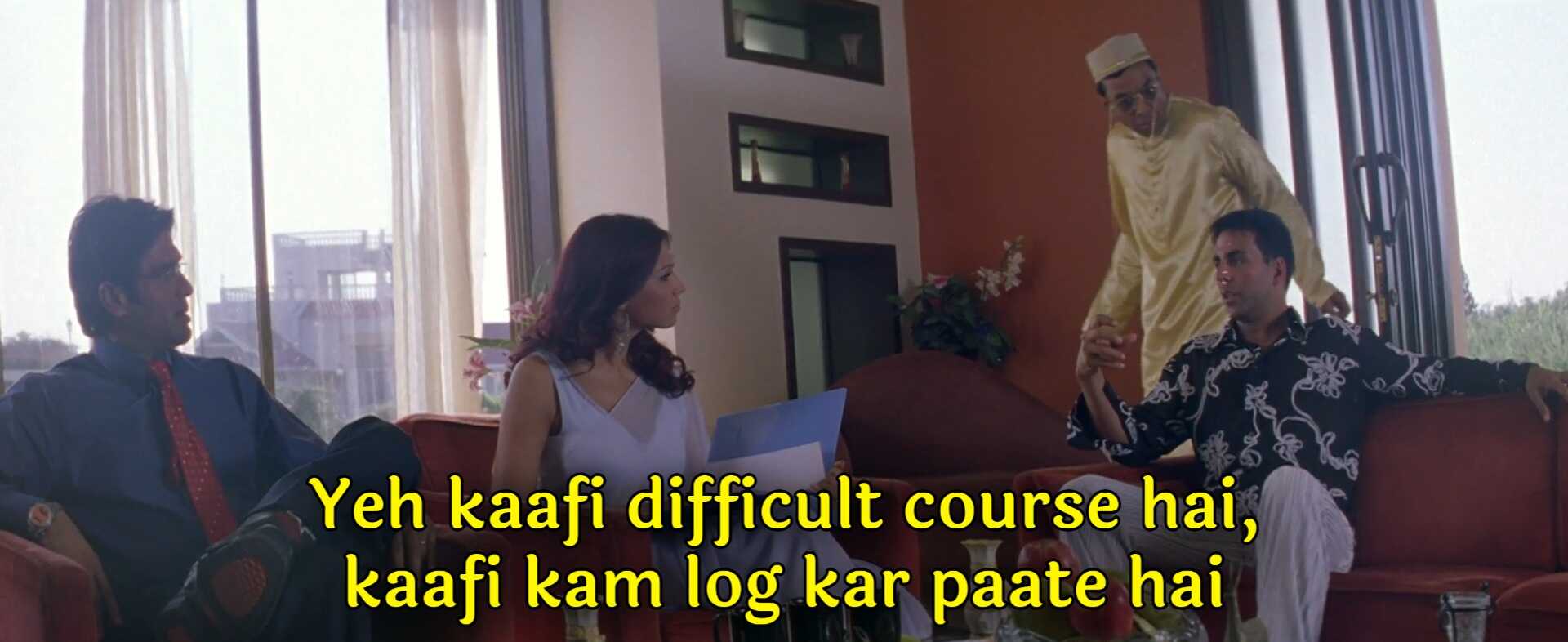 Tu iske saath mat ghum re

Raju posing outside the bungalow

Plastic surgery ka naam suna hai

Paisa laya

Maal aagaya maal aagaya

Are mujhe chakkar aane laga hai

Ae chal panipuri laga

Ekdum gurughantal aadmi hai

Paisa hi paisa hoga

Raju watching munna bhai

Yeh bhedbhav kyu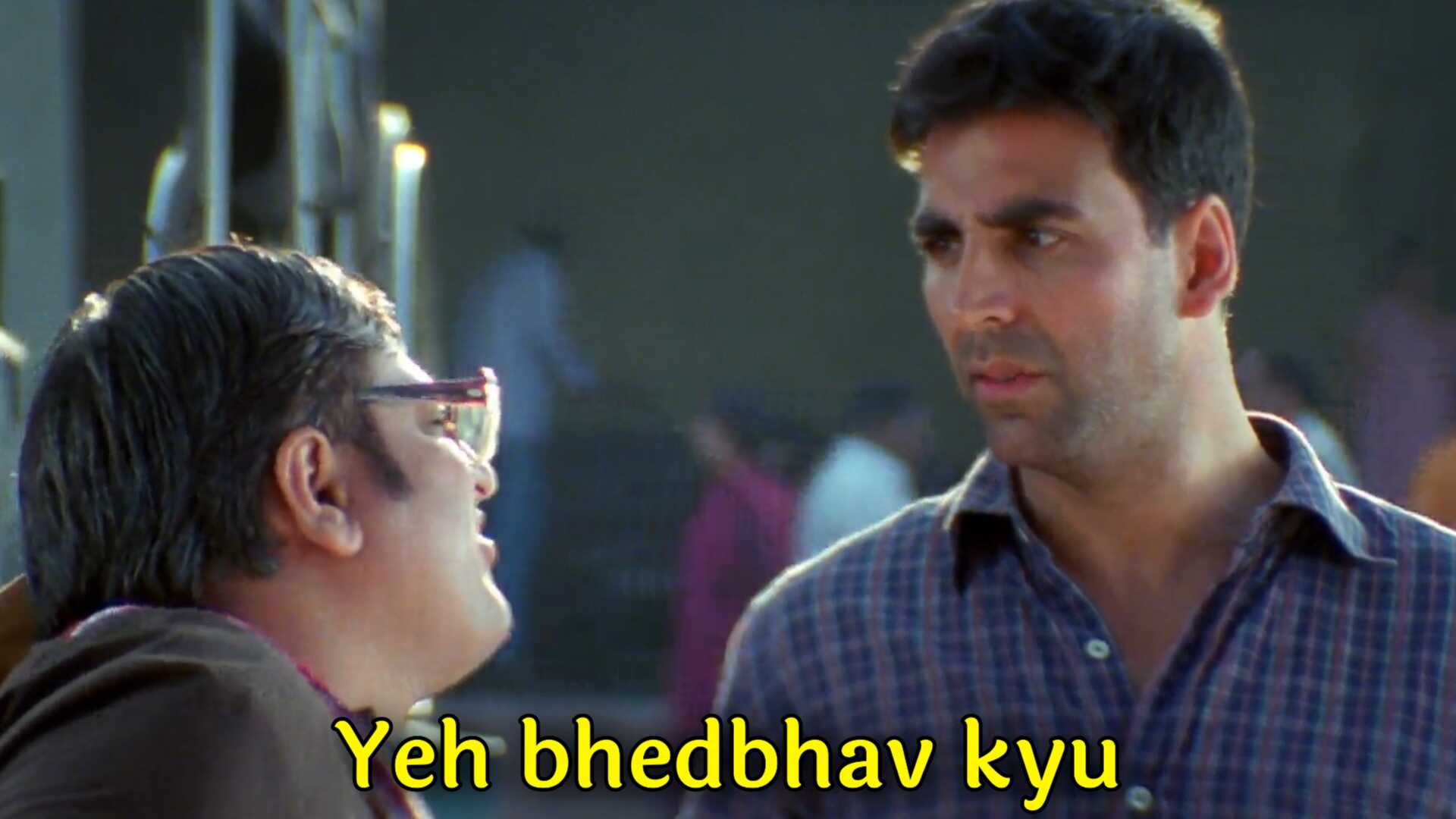 Raju shyam ruunning after munnabhai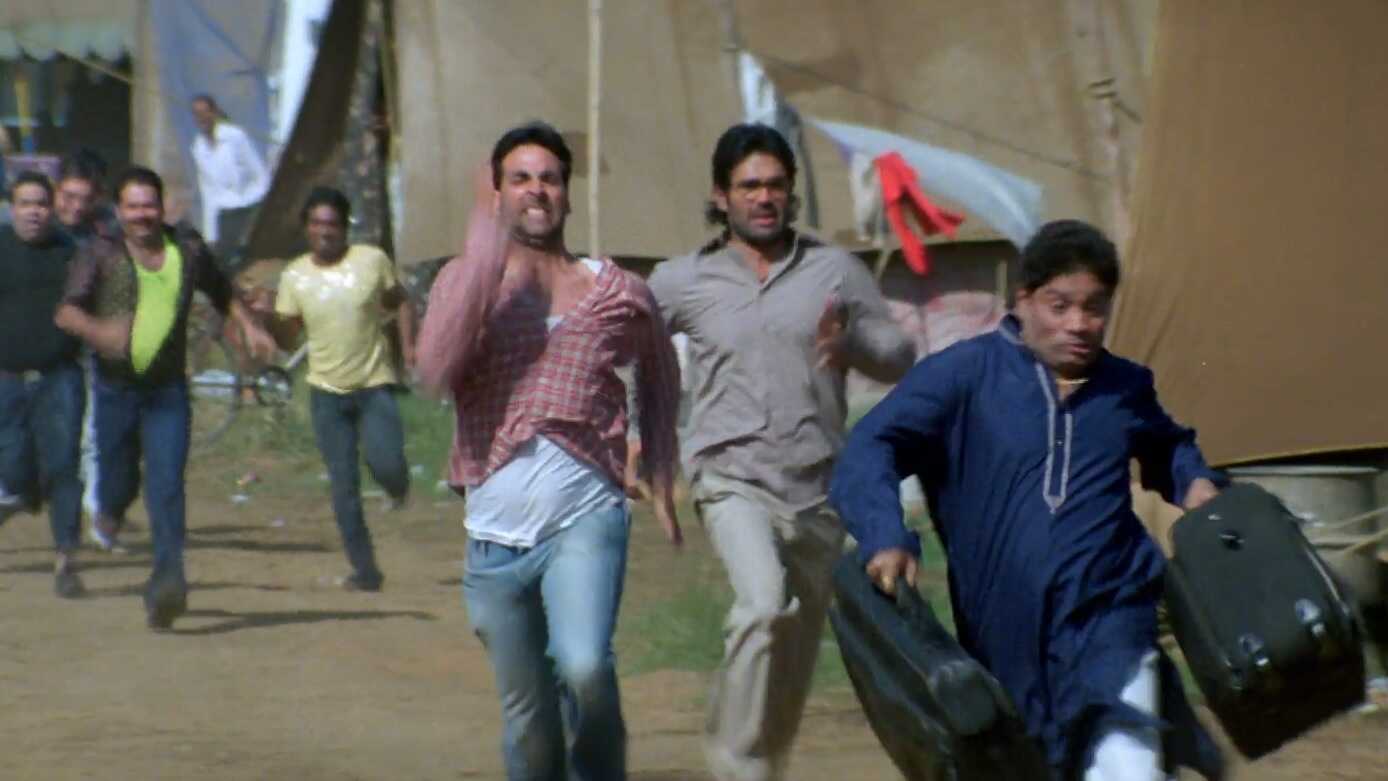 Abe mereko to andar lo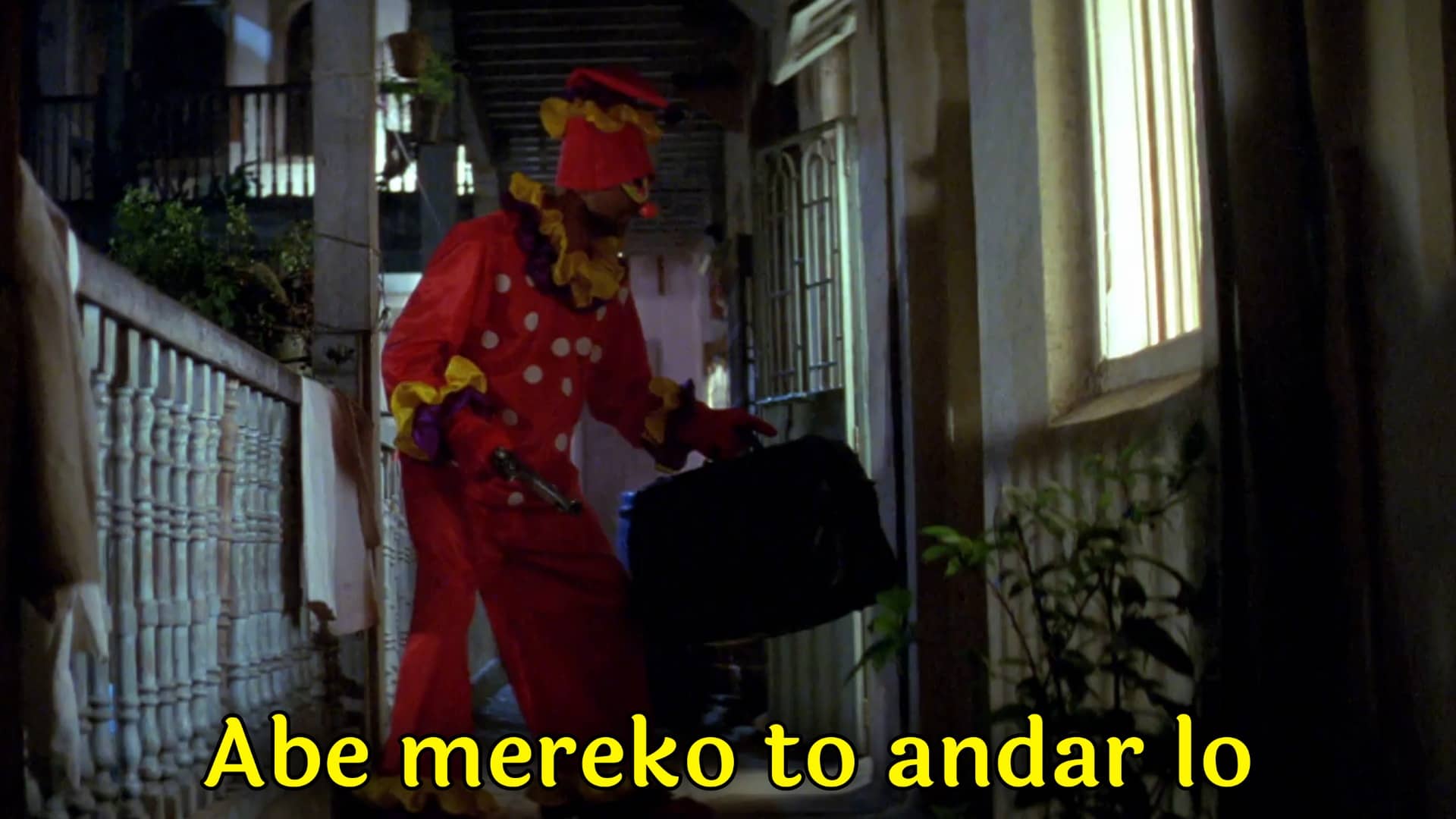 Paresh Rawal as Baburao Ganpatrao Apte (Babubhaiya)
Tereko 8 10 lottery eksath laga kya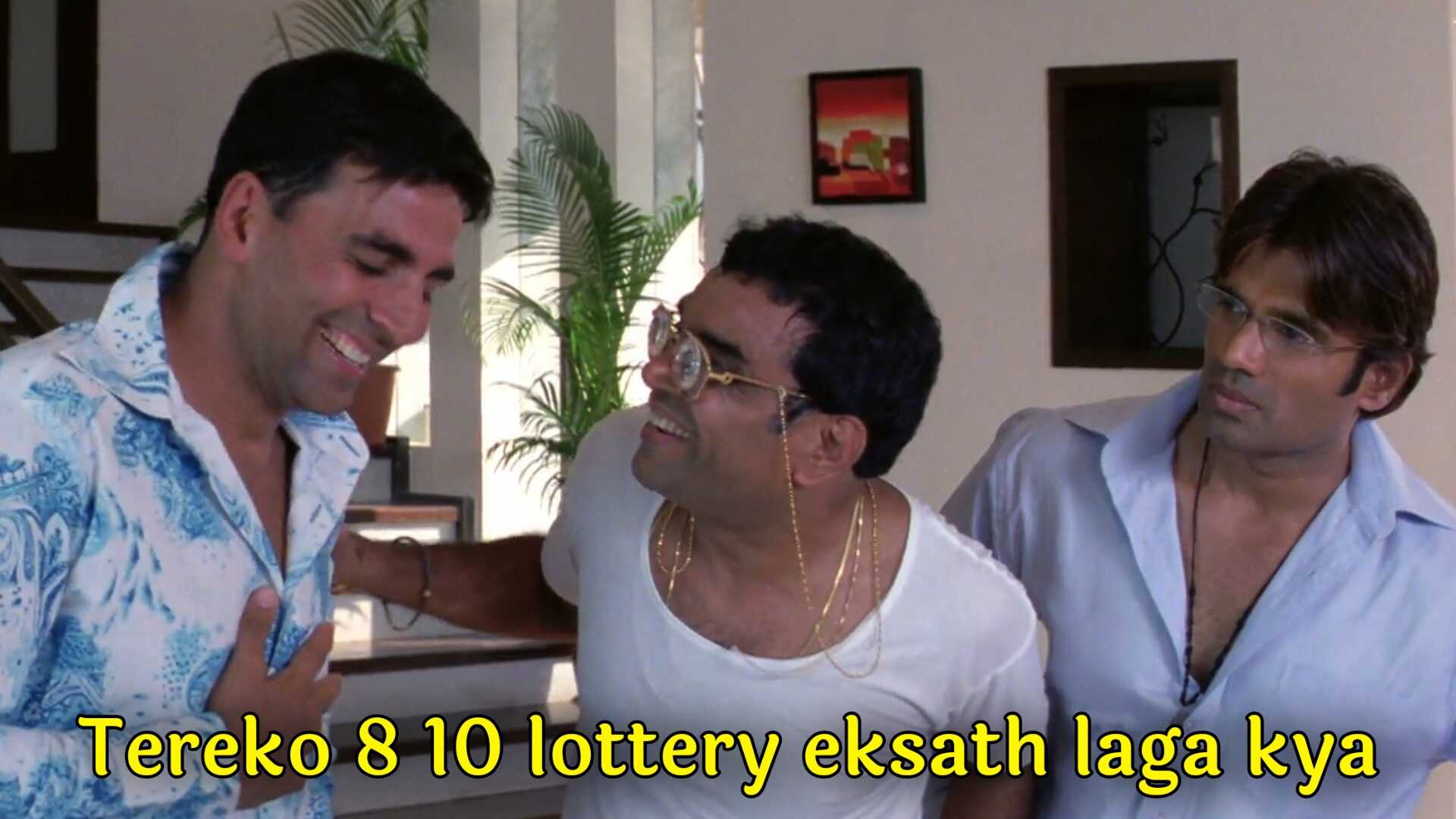 Ye samsya hai re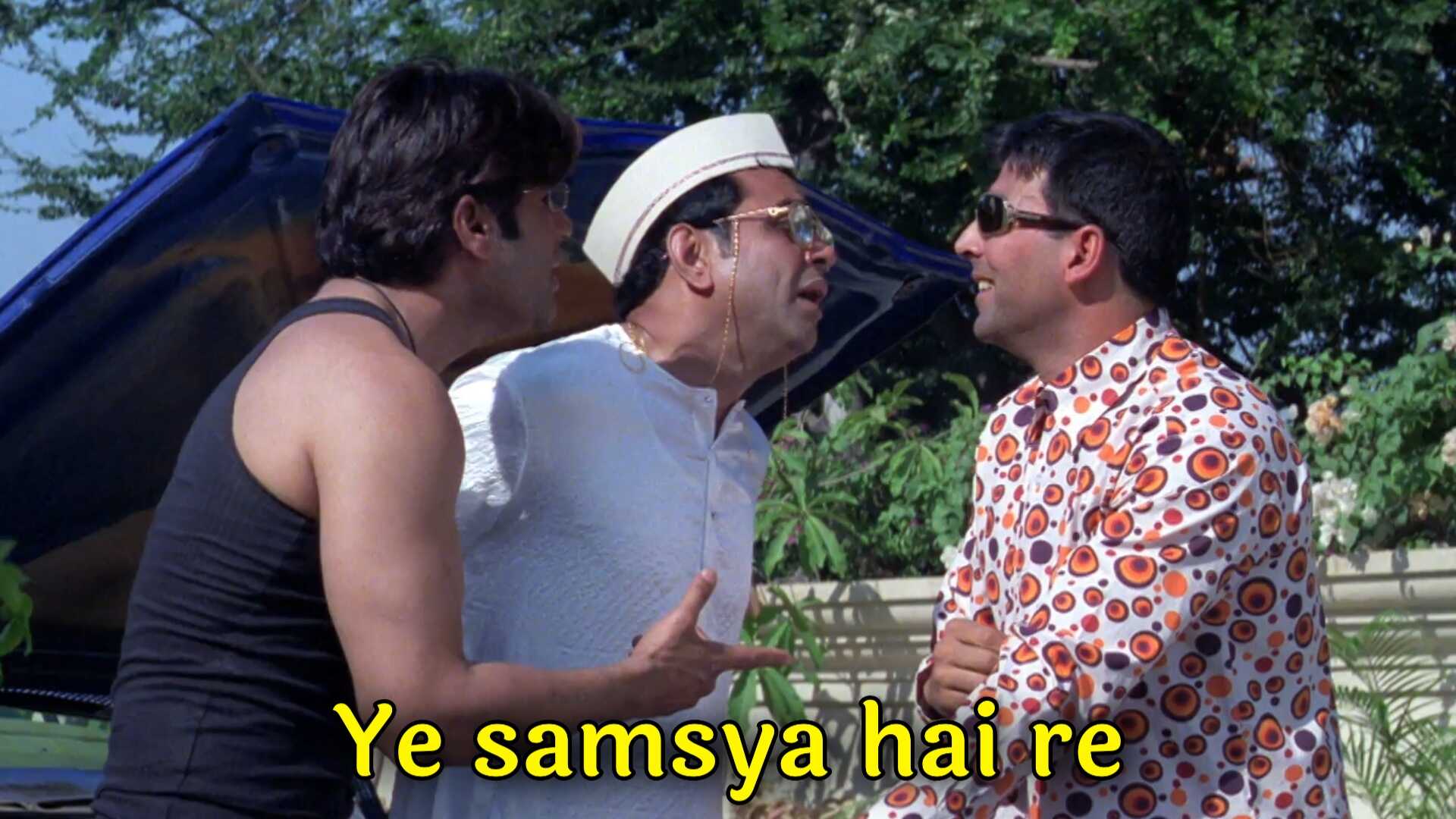 Babubhaiya se direct Babu

Tera to game bajana padega

Mast joke mara re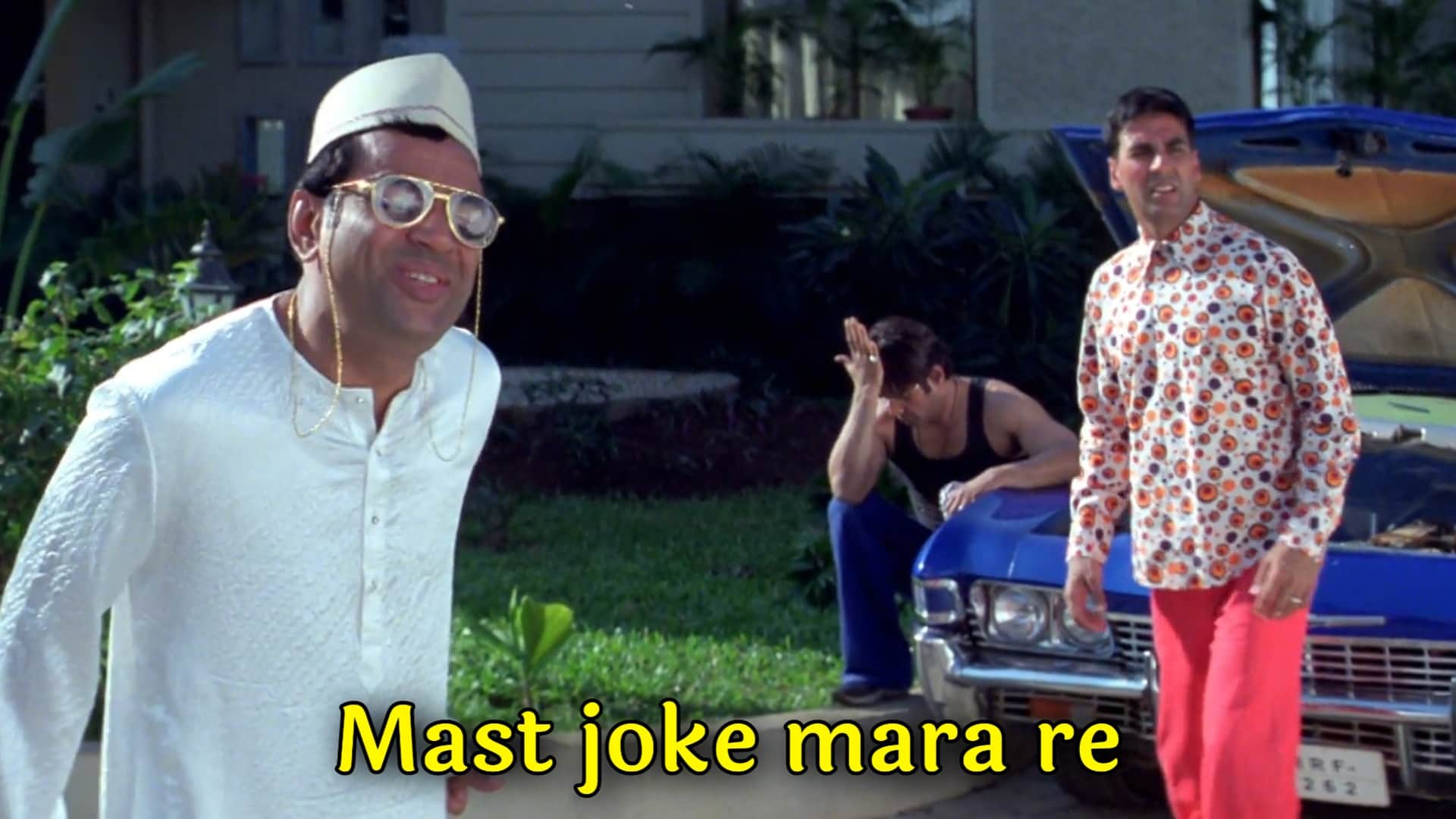 Has re halkat has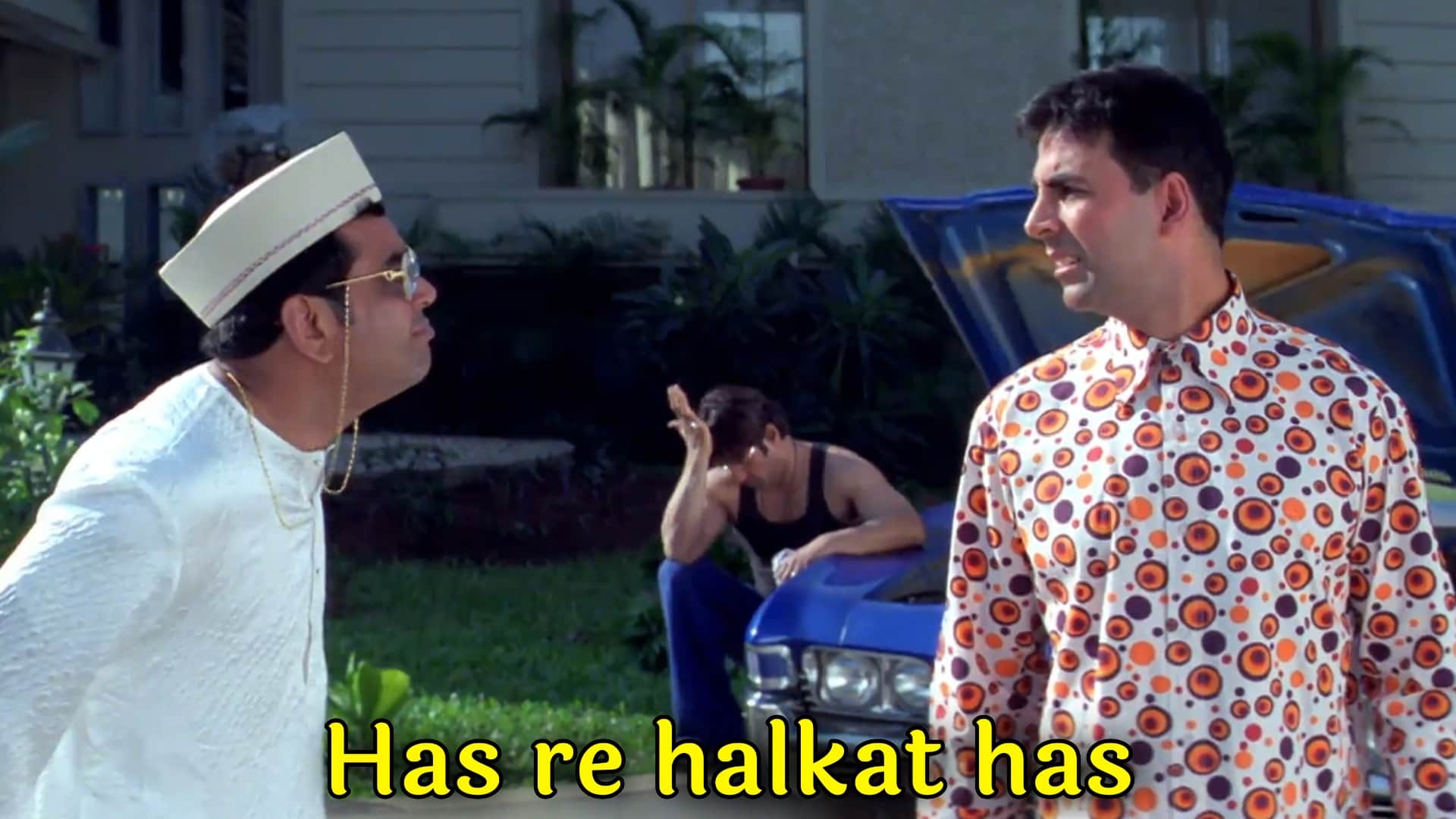 Kya re halkat

Baburao wishing to god 

Marathi mansa jaga ho

Khopadi tod saale ka

Kashi haay

Mast plan hai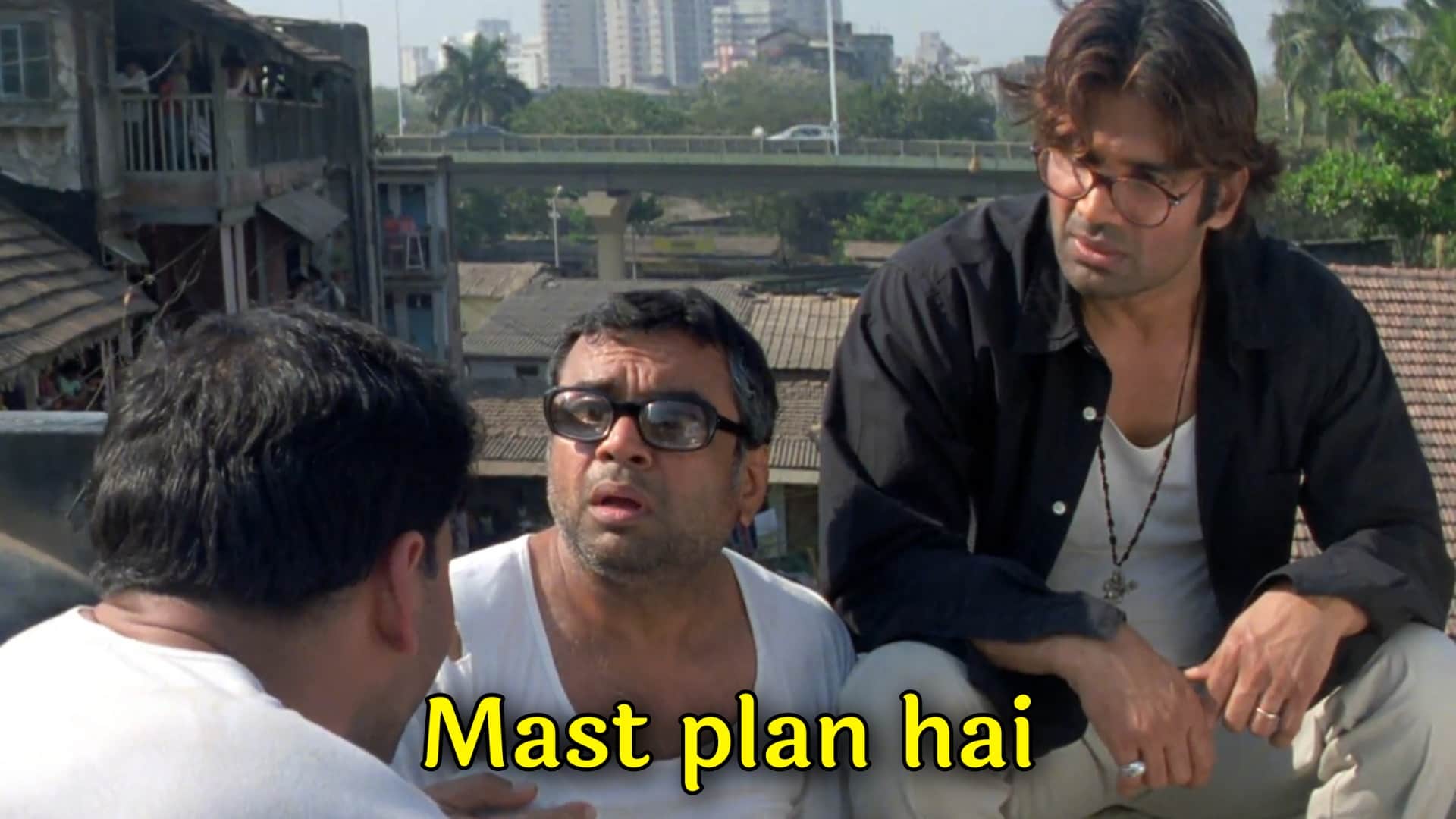 Pakad mereko pakad 

Tere paas koi aur raasta hai

Ye tereko pyaar to nahi hua hai na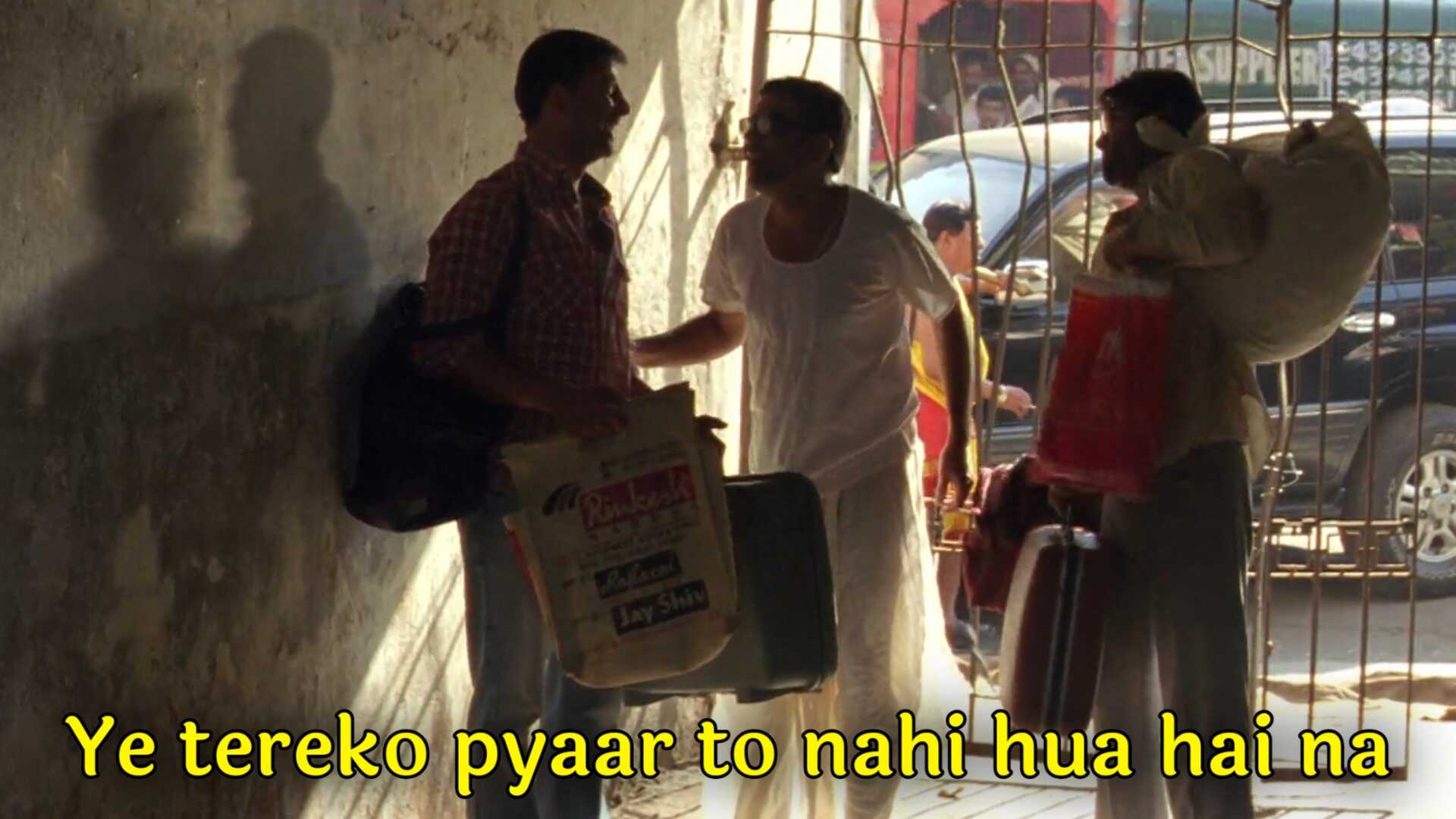 Tera wajah se mera atmahatya karne ka time aa gayala hai

Mereko to aisa dhak dhak horela hai

Gira kya gira kya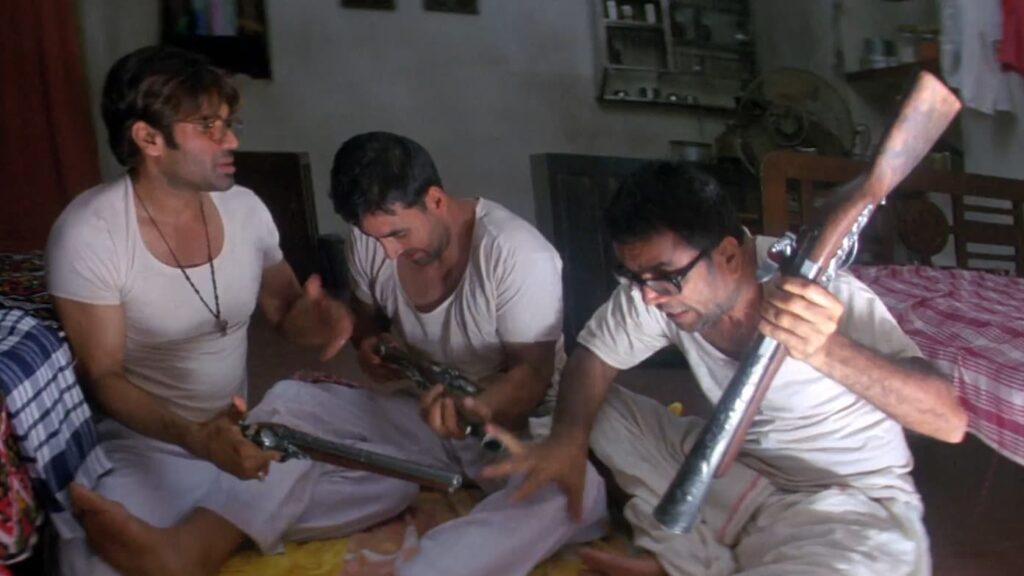 Mai readymade bhikari lagta hai

Lagta hai kisi dusre ke kholi me aa gaya

Idhar jeher khaane ka paisa nahi hai

Devmanus nikla re

Bahot galat hua re deva

Babubhaiya shocked 

Ae muh se supari nikaal ke baat kar re

Kya gunda banega re tu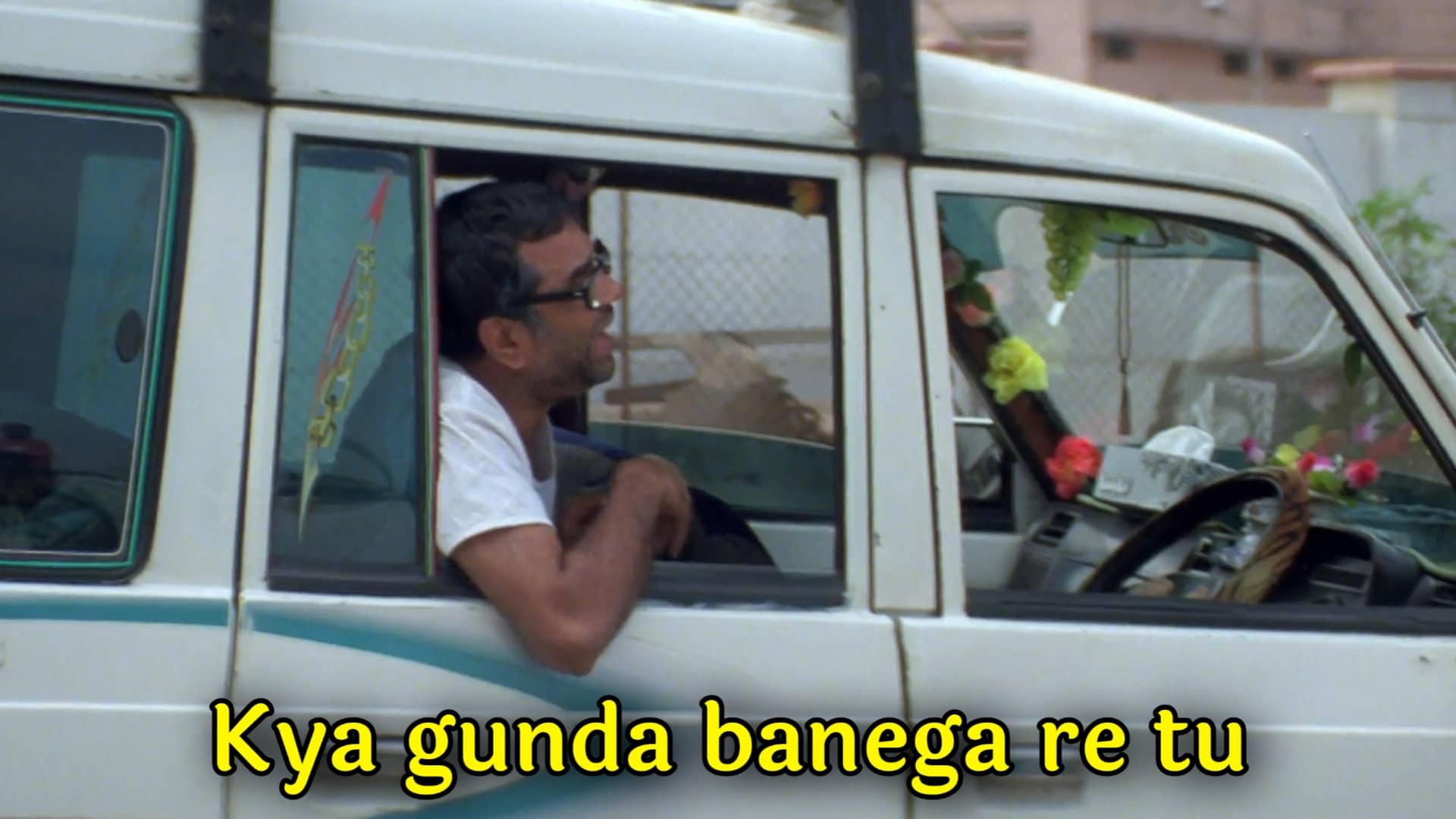 Raju, Babubhaiya, Shyam shocked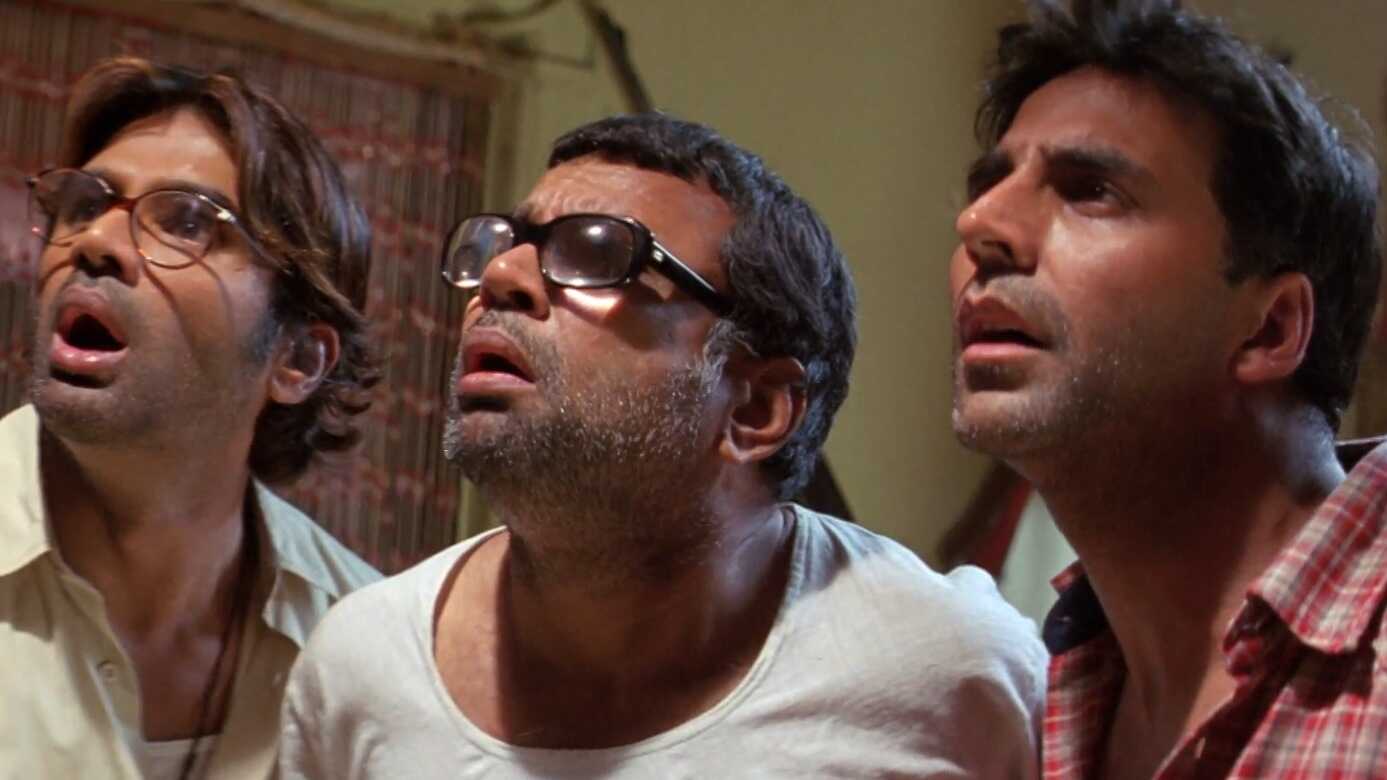 To sabko dikhana padega na

Sunil Shetty as Ghanshyam (Shyam)
Shyam teasing Raju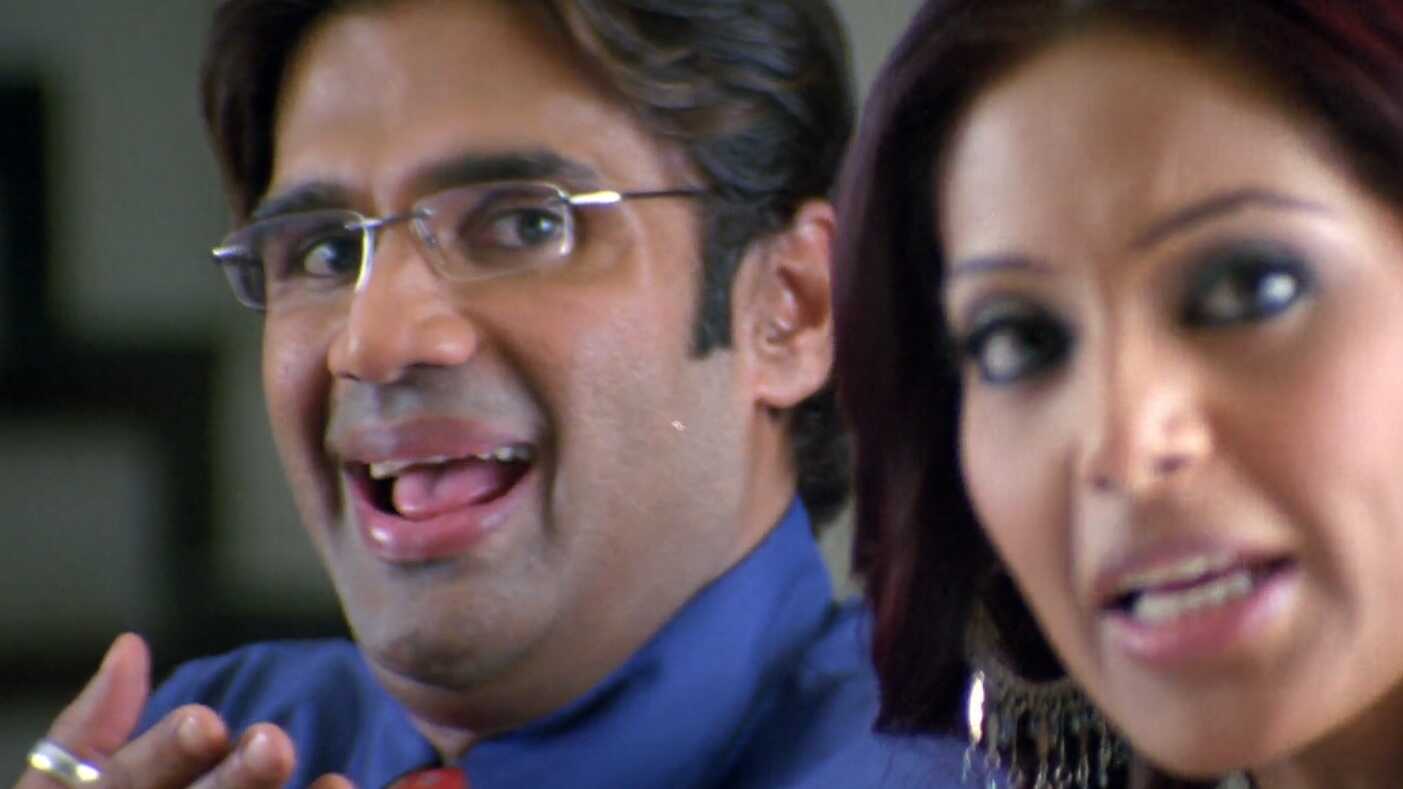 Toh jaake police station mai bata na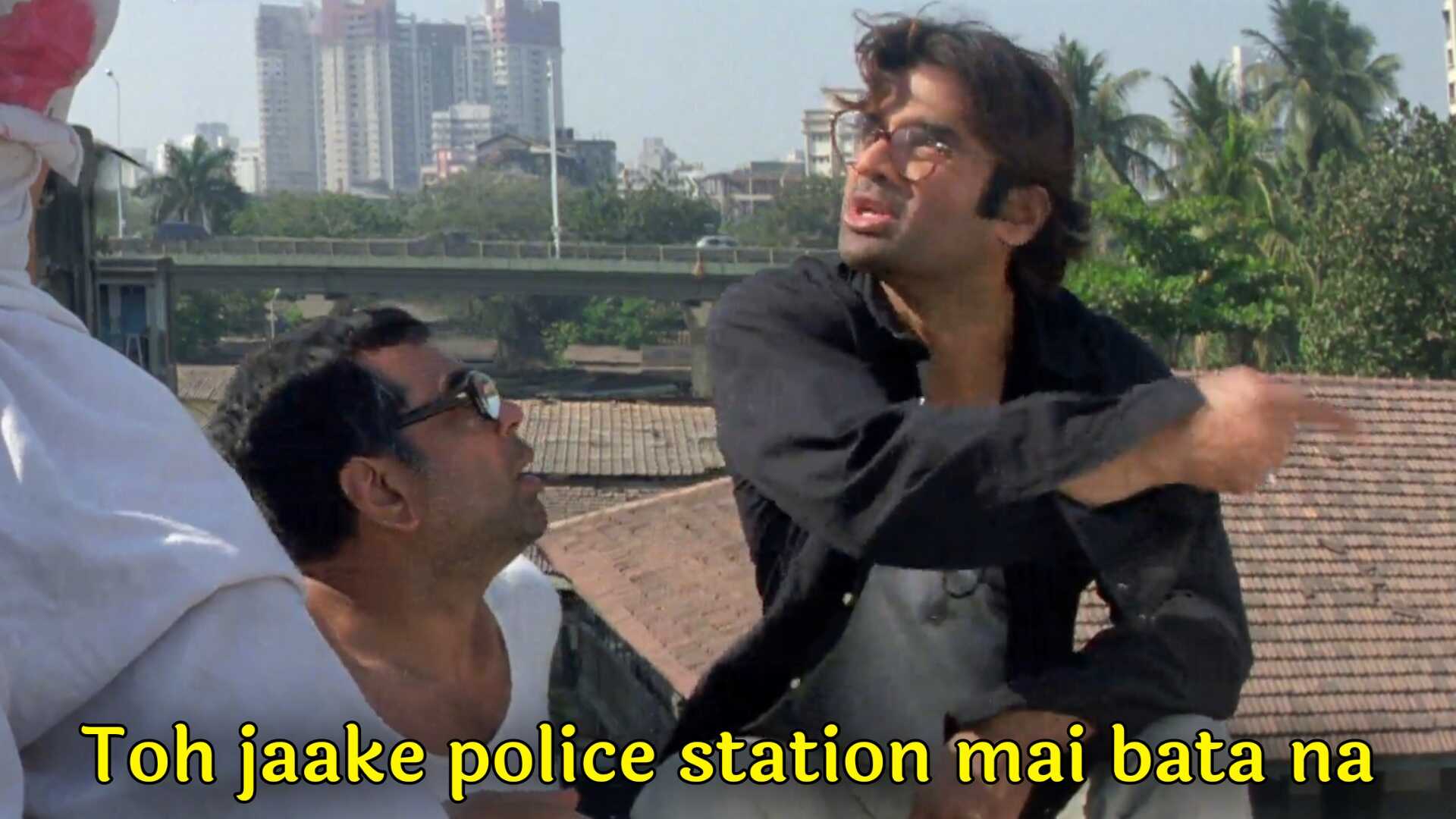 Iski topi uske sir (Itus)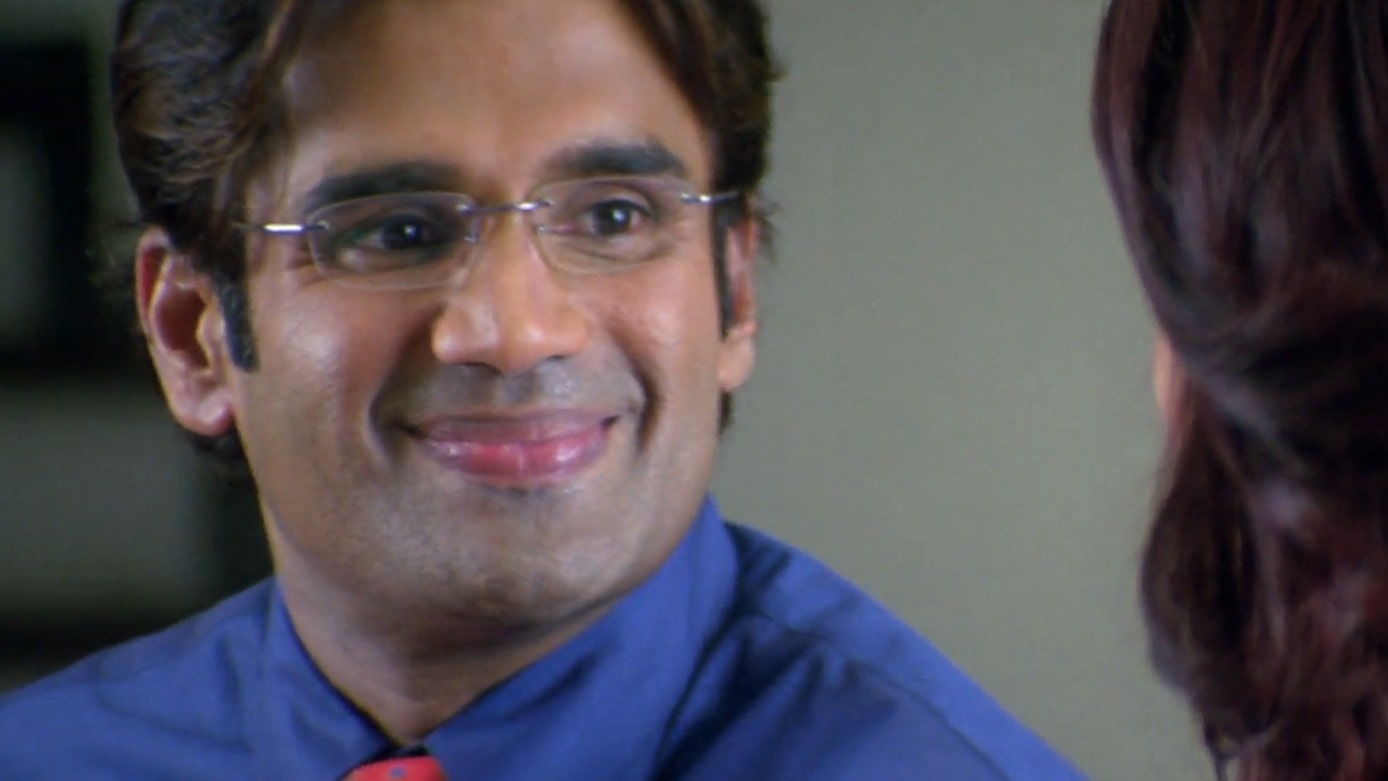 Golmaal hai bhai sab golmaal hai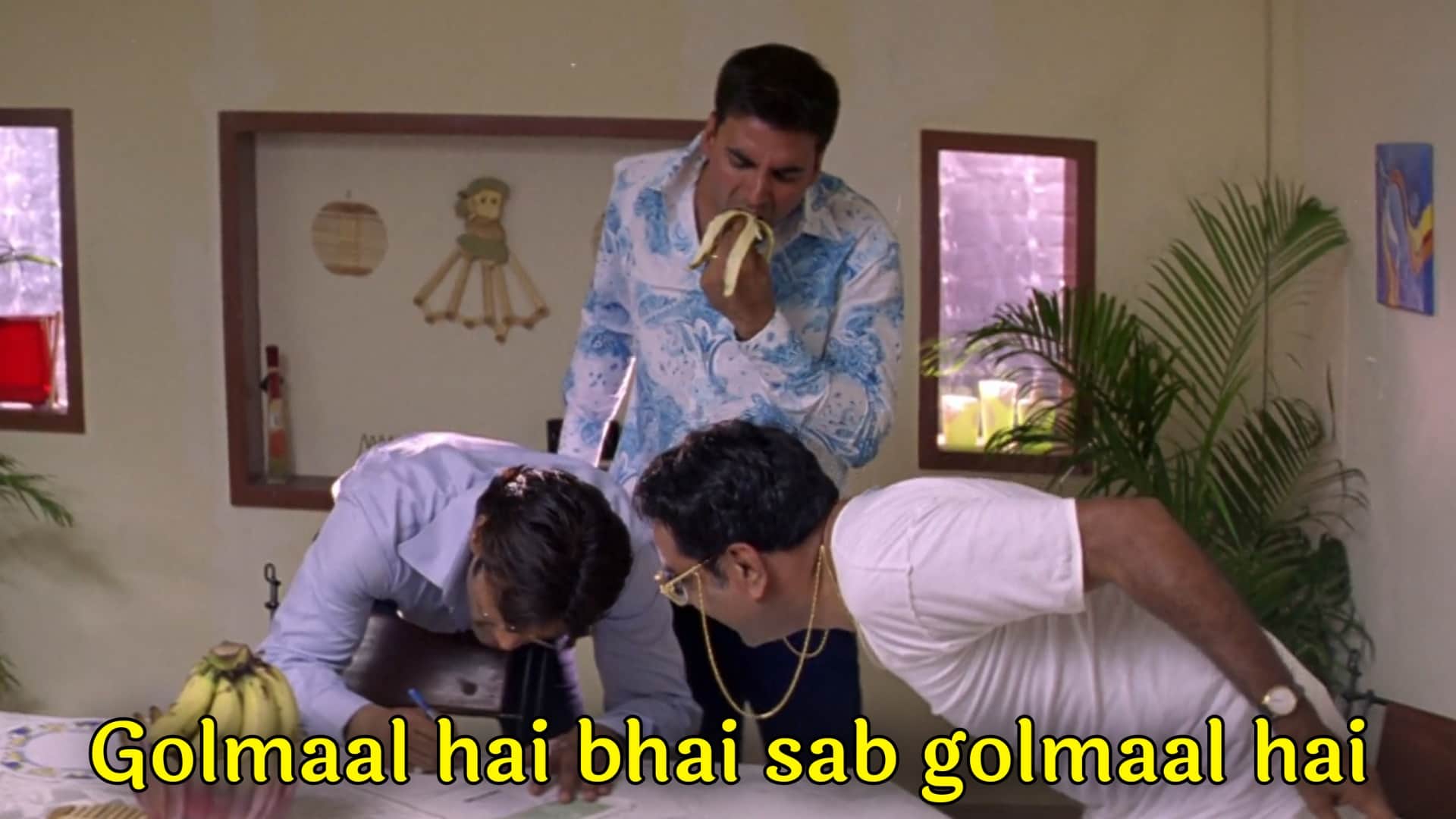 Rajpal Yadav as Pappu
Nakli note chapne ka dhandha hai kya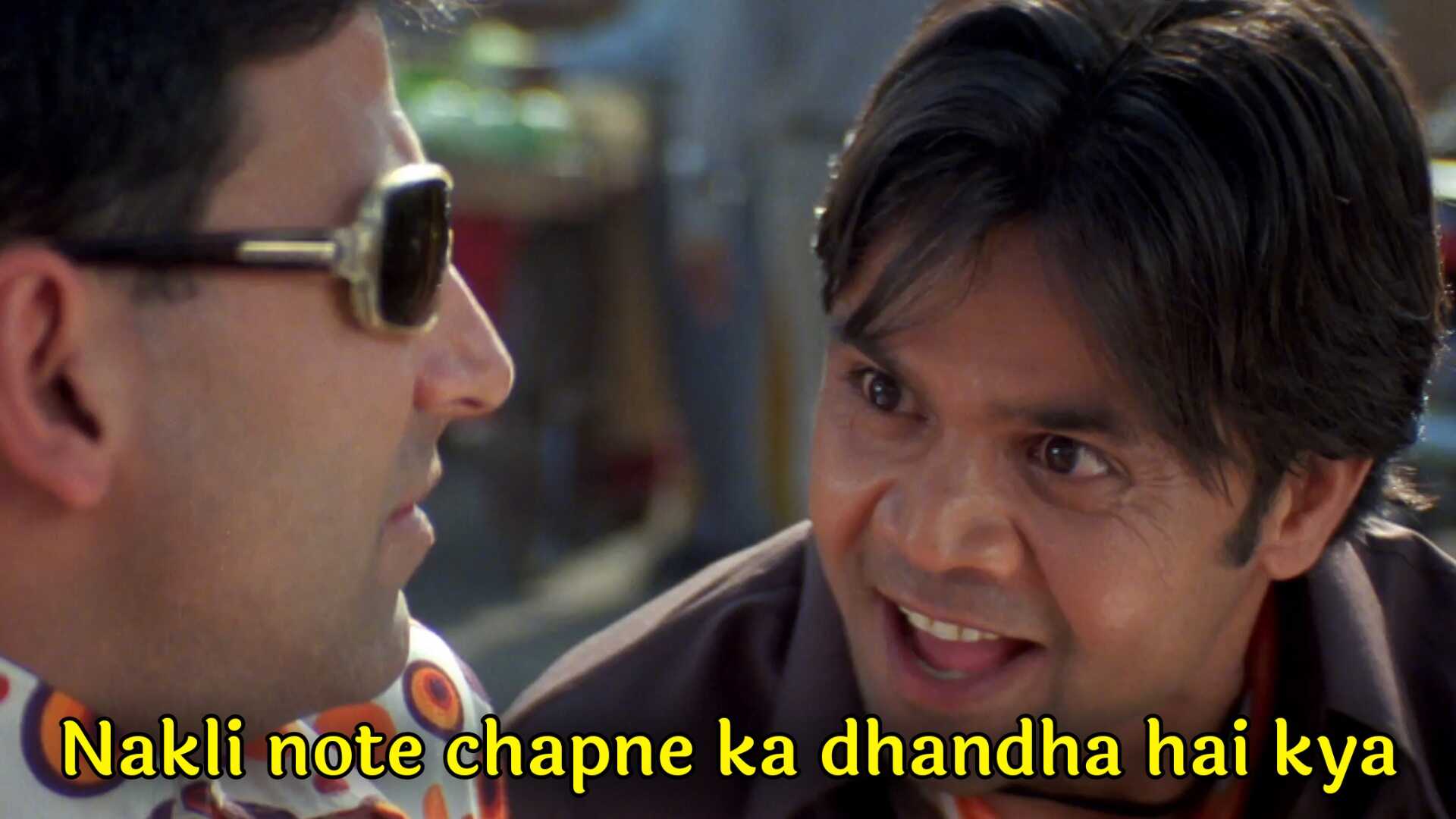 Mai koi gav se aya hu kya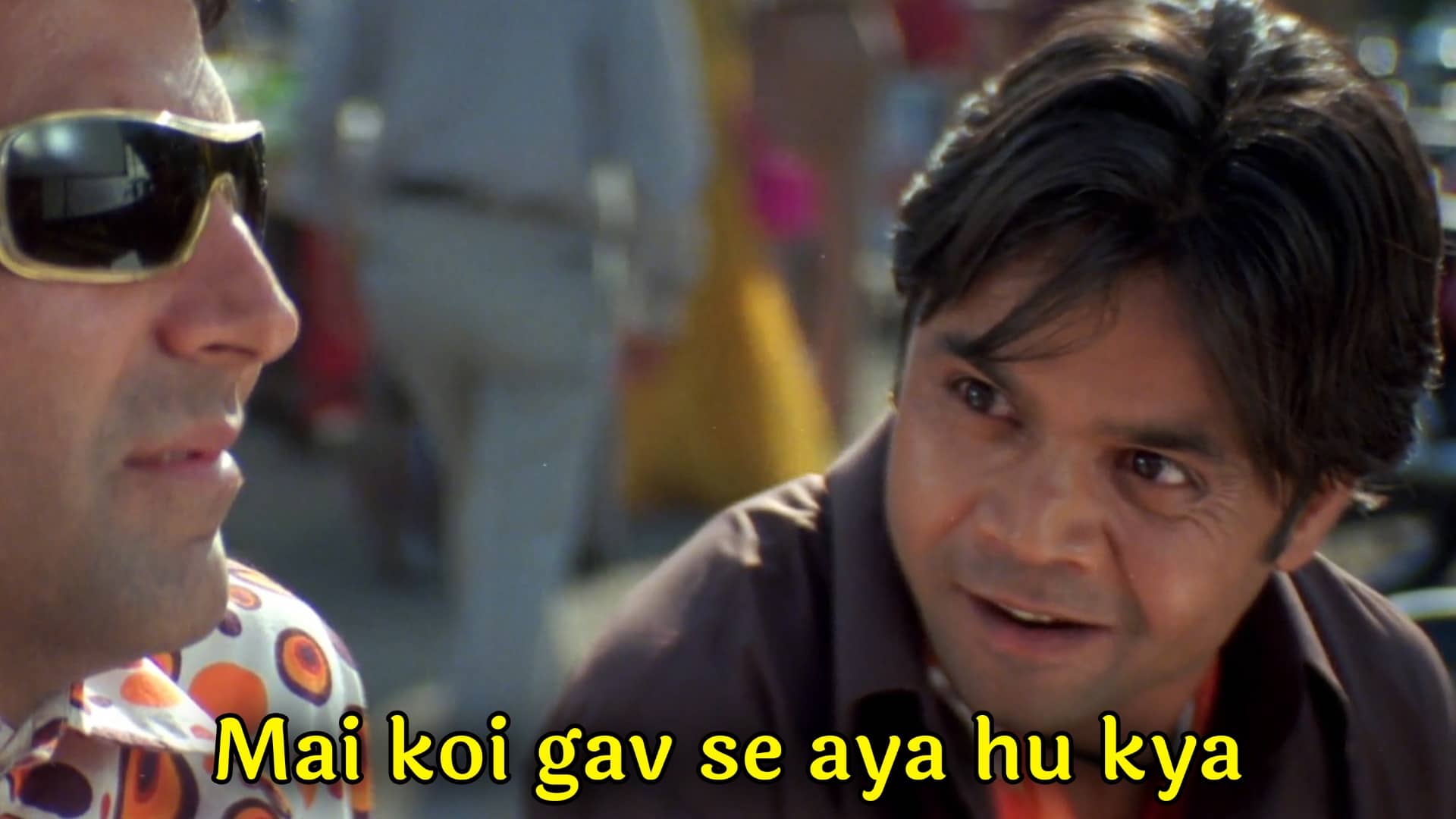 Mujhe aap pe pura bharosa hai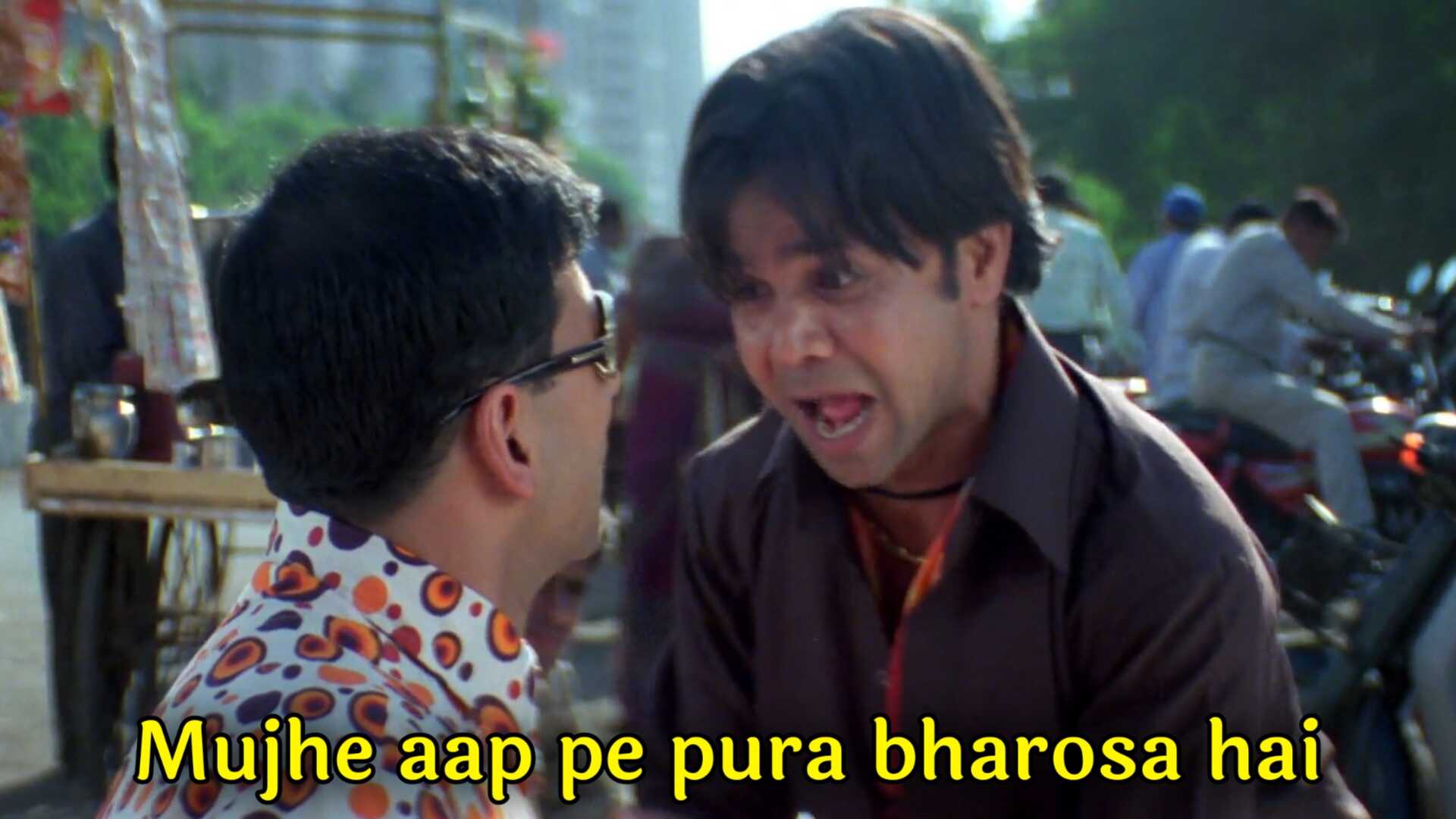 Fir apna kaam khallas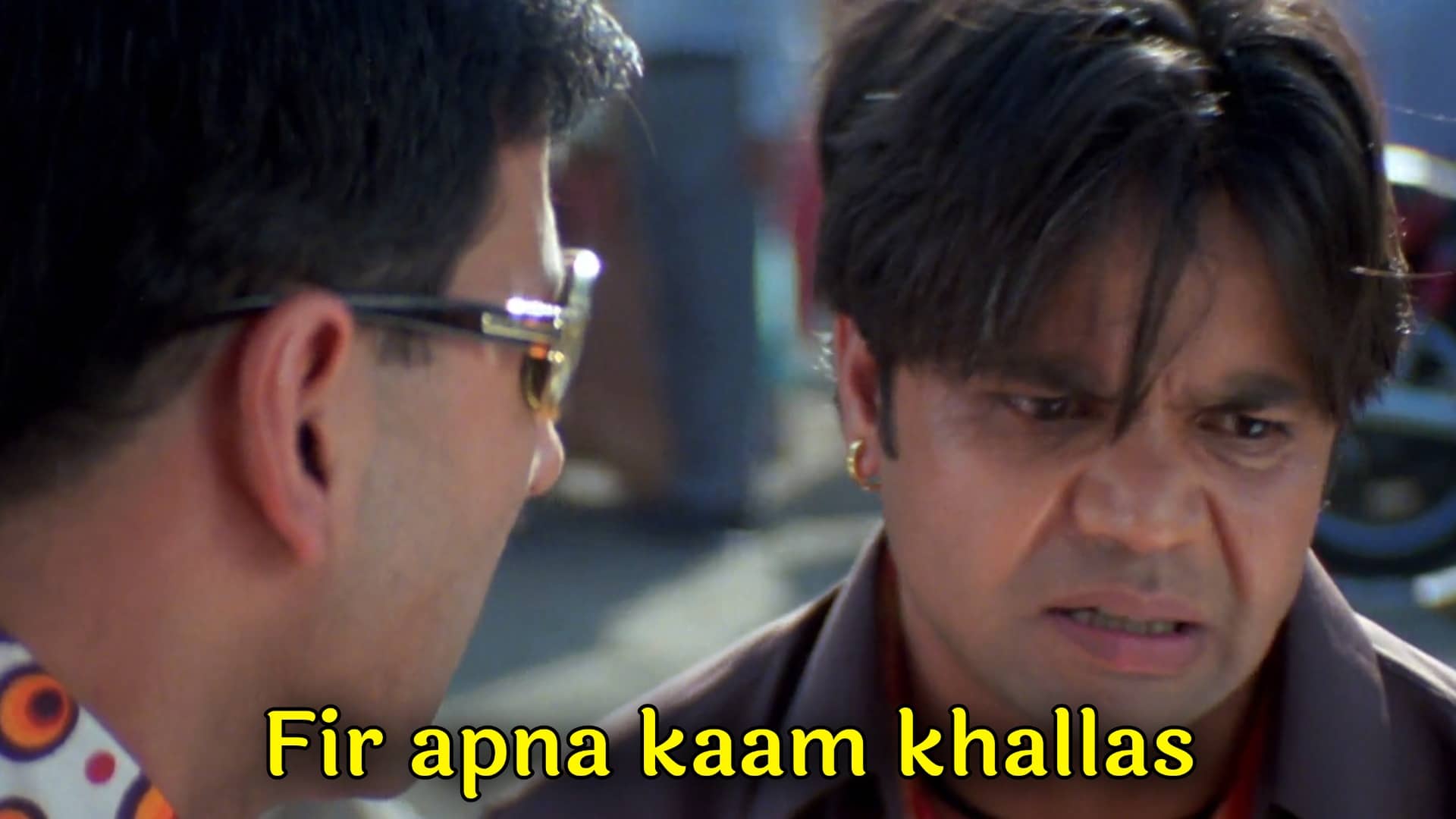 Bhai paisa ho to kya kuch nai ho sakta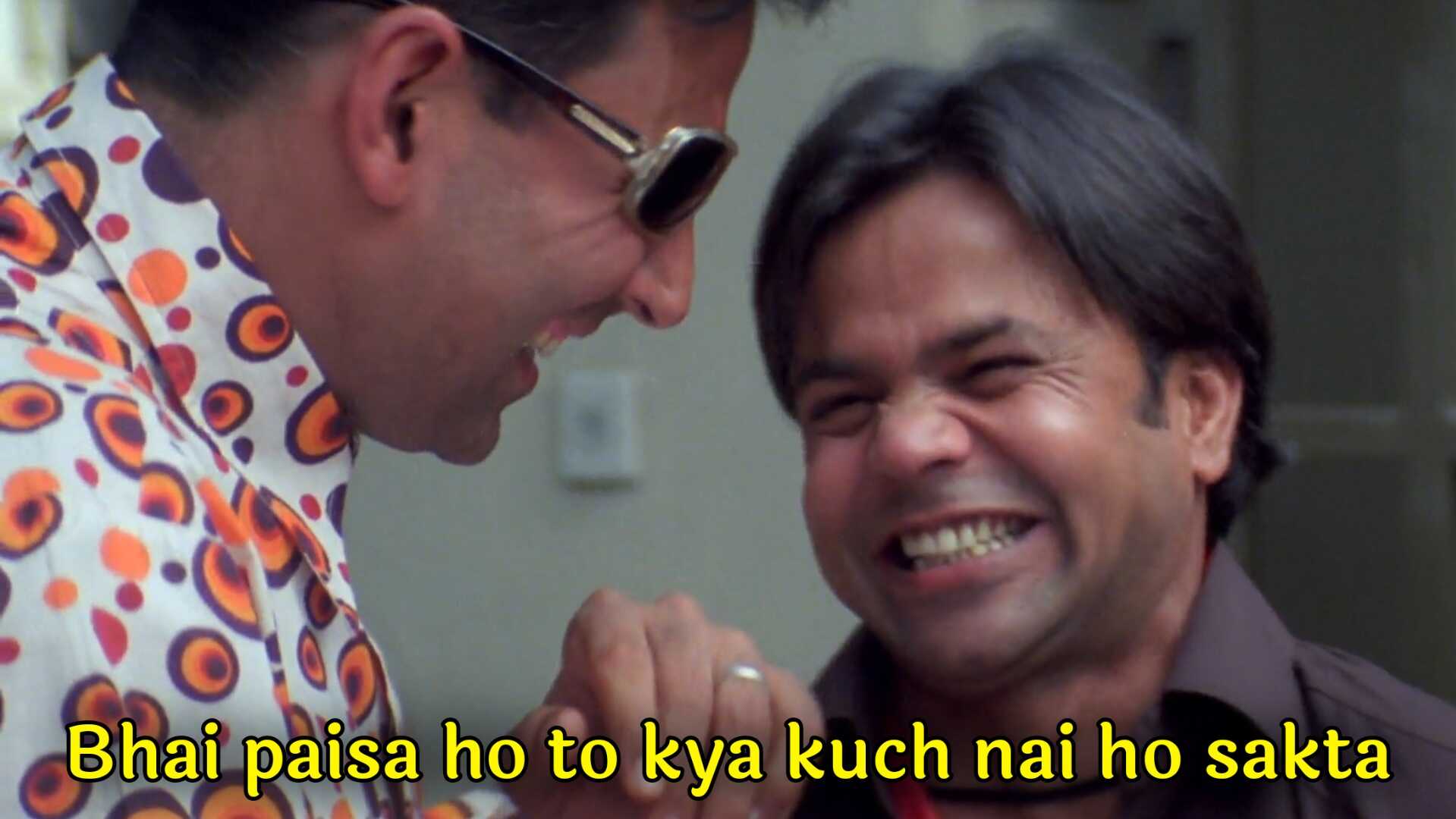 Thik hai bhai ab mai chalta hu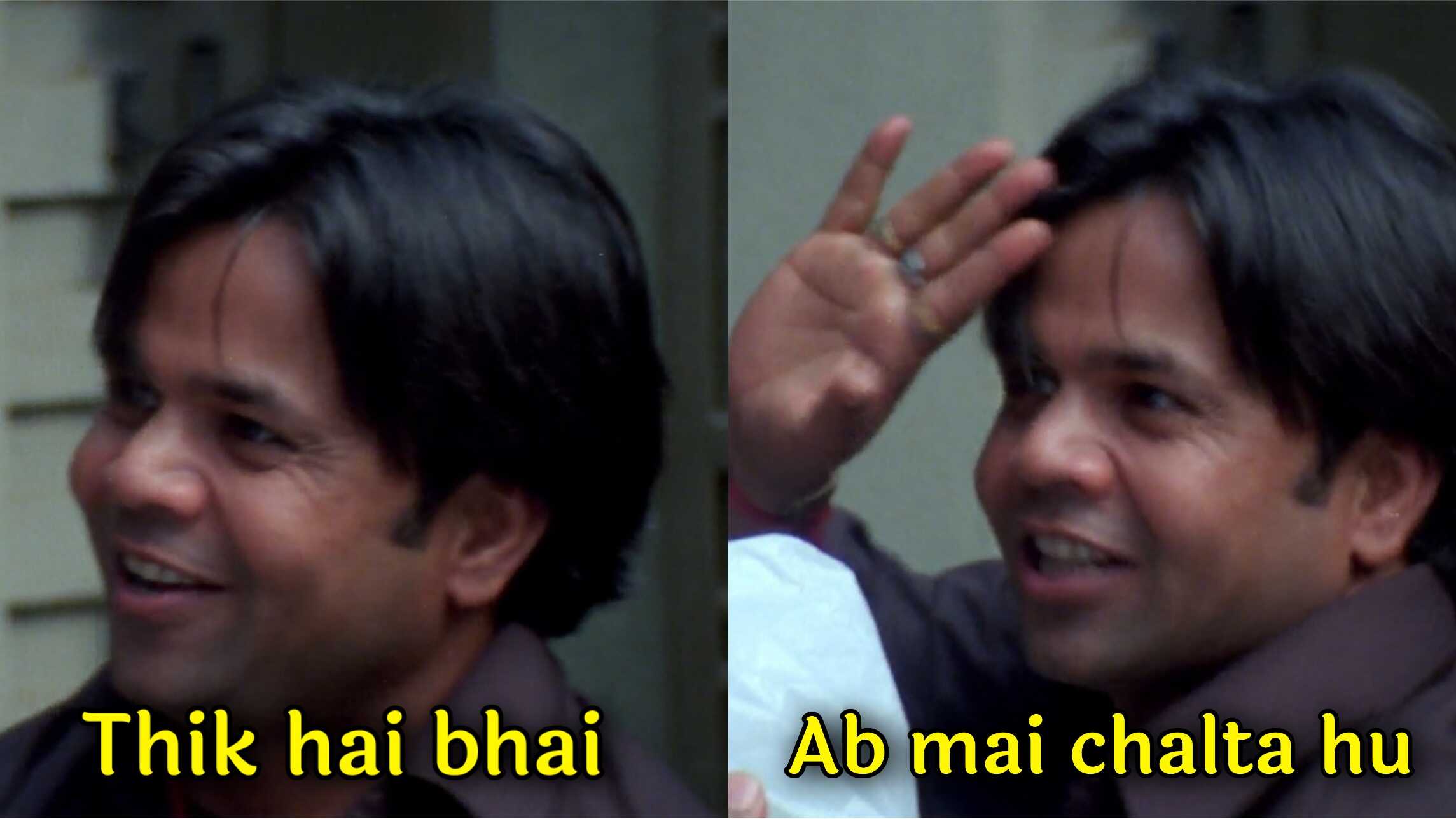 Raju bhaaaiii mai aaa gaya

Saale ko bomb se uda dunga

Milind Gunaji as Nanji Bhai
Saaley mera maal churake mereko hi bechta hai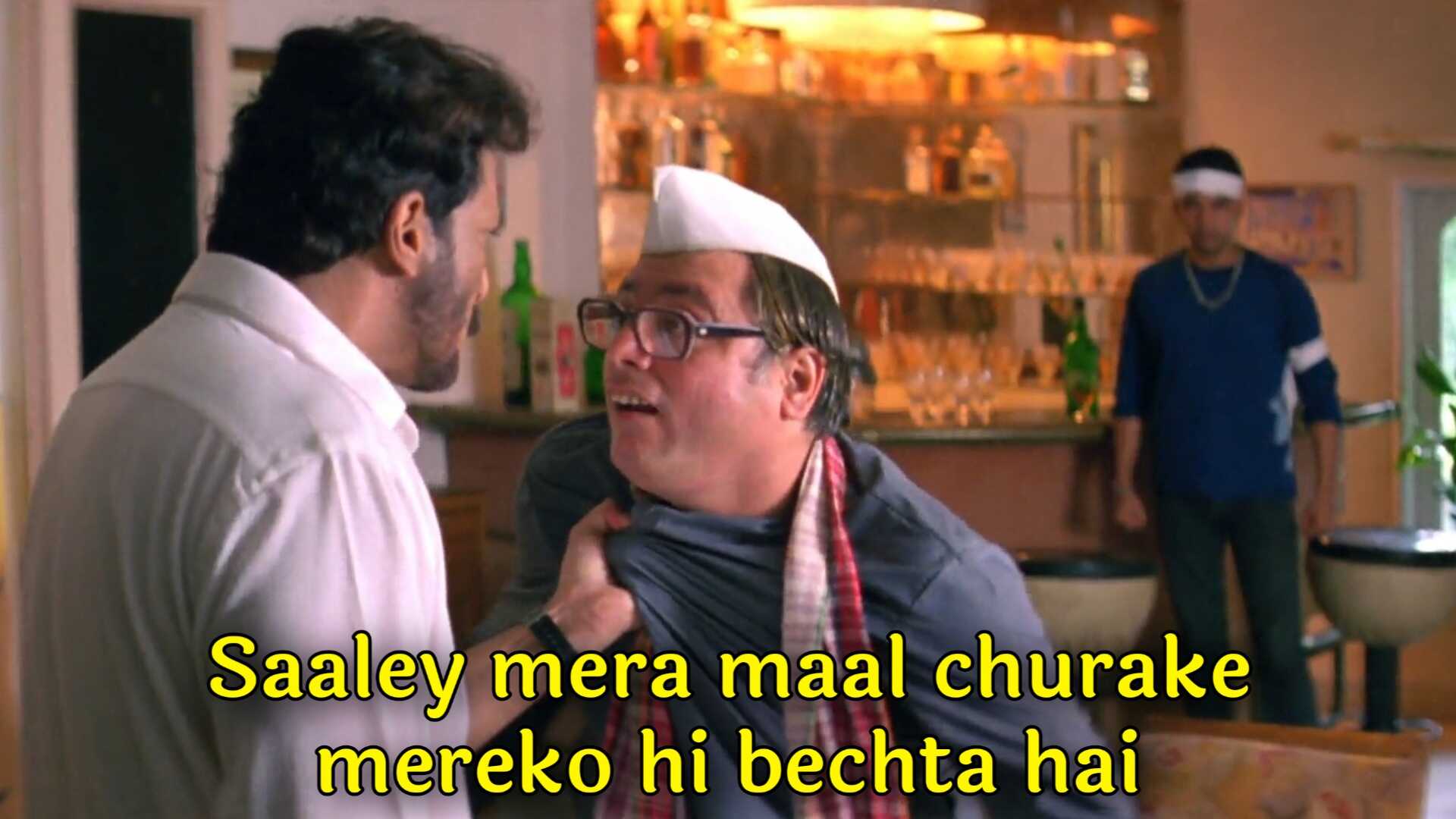 Johnny Lever as Munna Bhai
Maal kidhar hai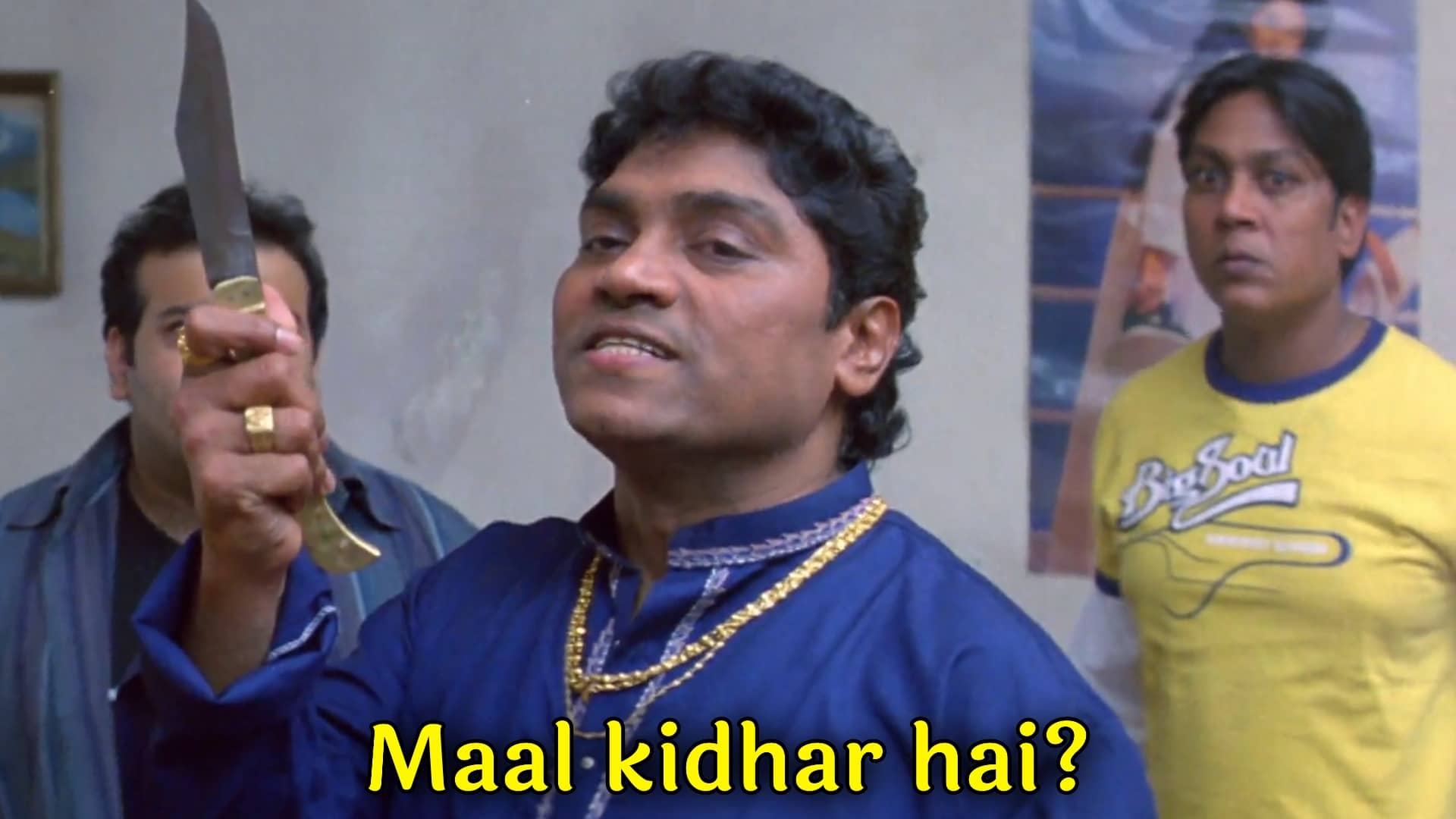 Abhi mai tereko phod dalunga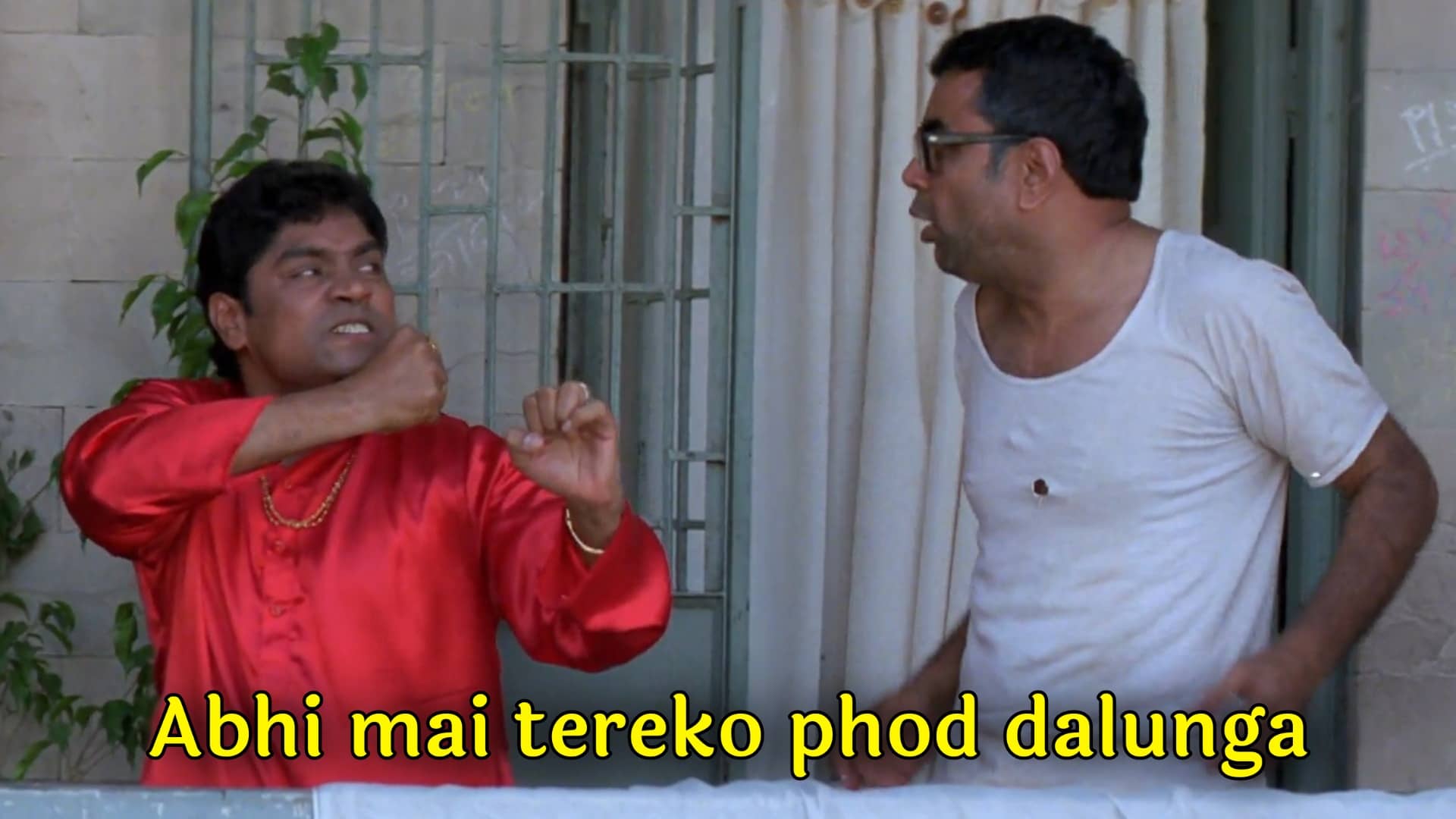 Abhi maza ayega na bhidu

Ae bilanshi nagin nighali

Aapka aavaj kidhar toh dekhela lagta hai

Manoj Joshi as Kachra Seth
150 rupaya dega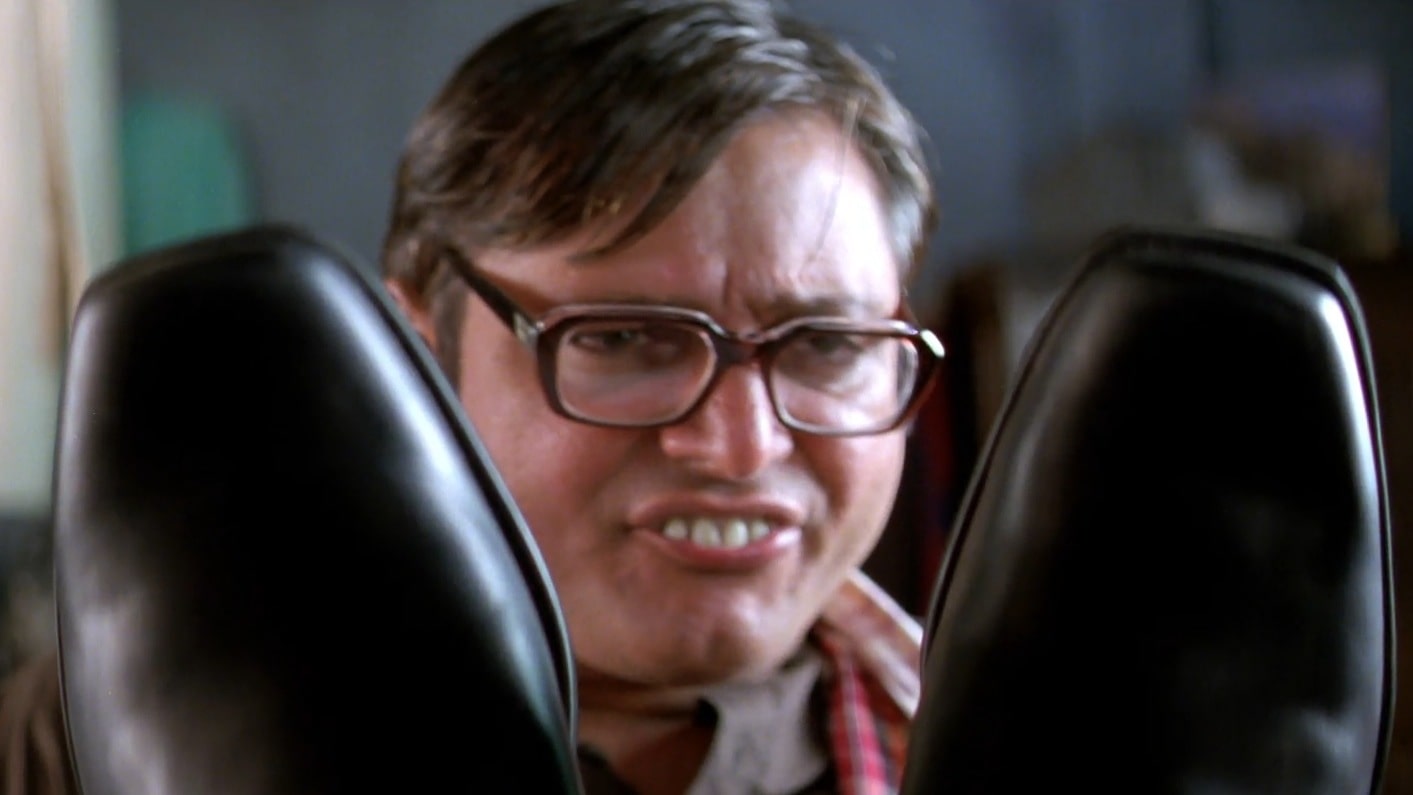 Aaahhh kadak hai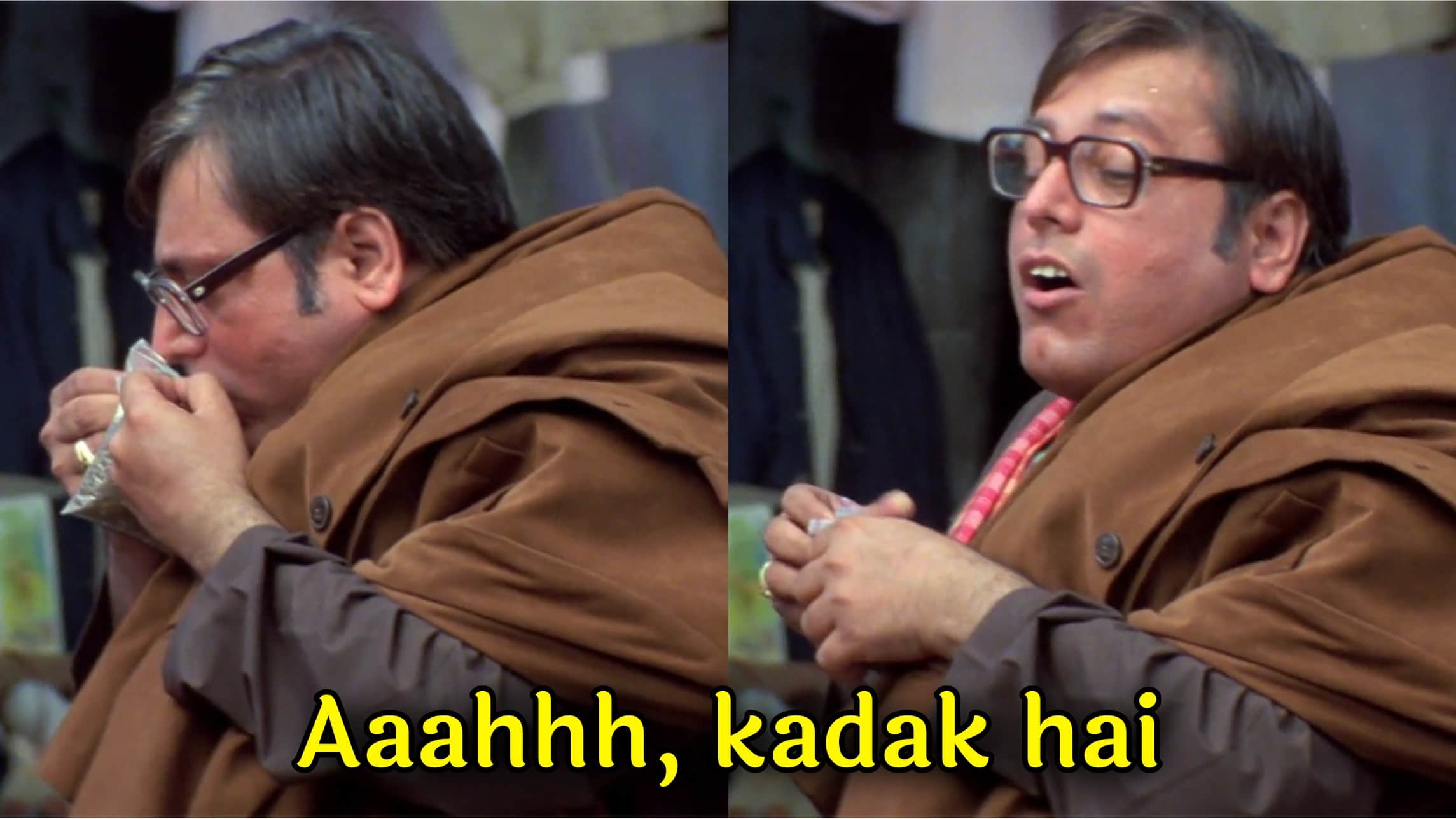 Pehle tu de

Yeh mera samsoong ka number hai

Mai jeb me leke thodi ghumta hu

Rimi Sen as Anjali
Mera picha chod do please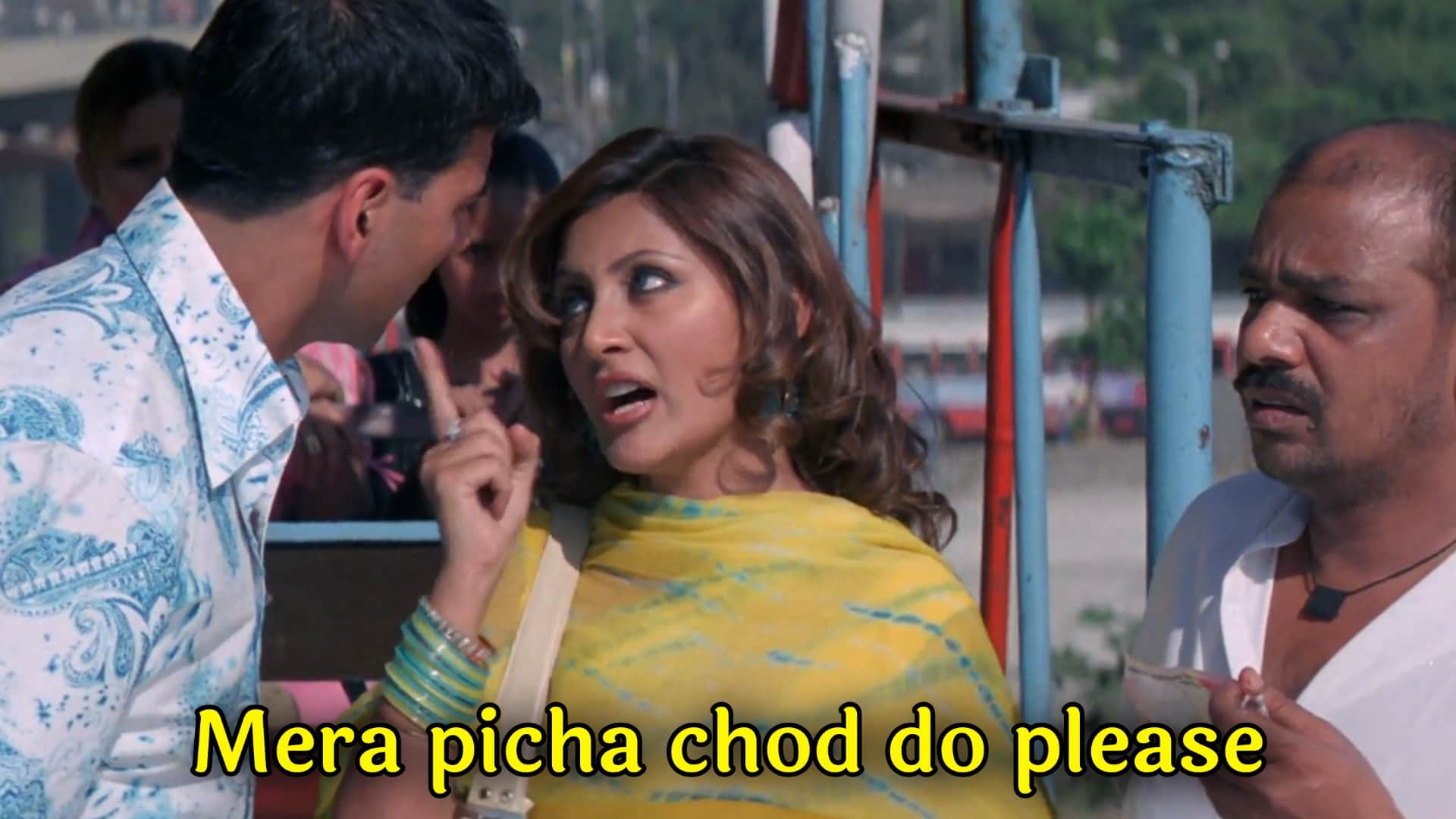 Sharat Saxena as Tiwari Seth
Abe tu meri nakal karta hai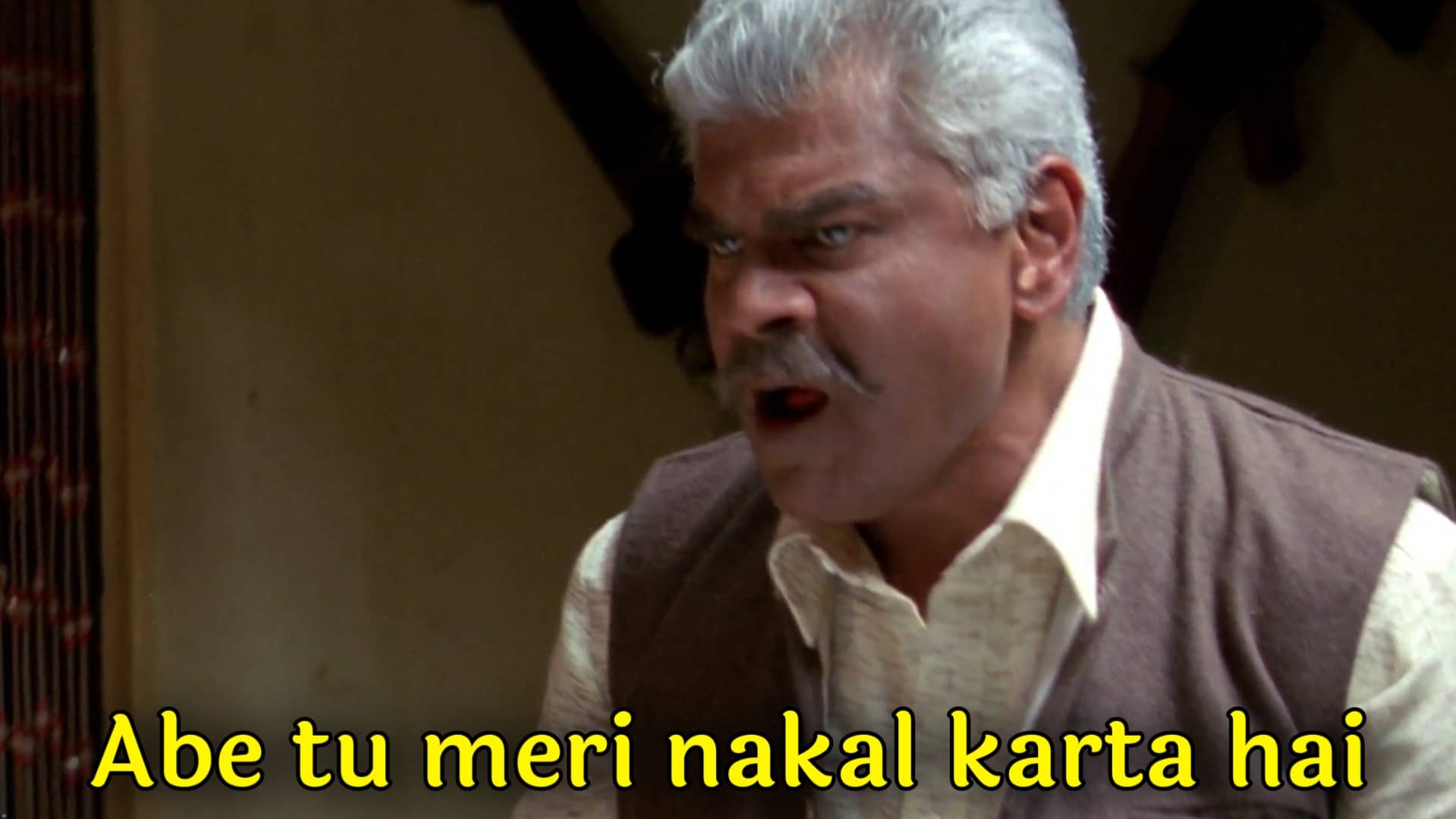 Tiliyal bol tiliyal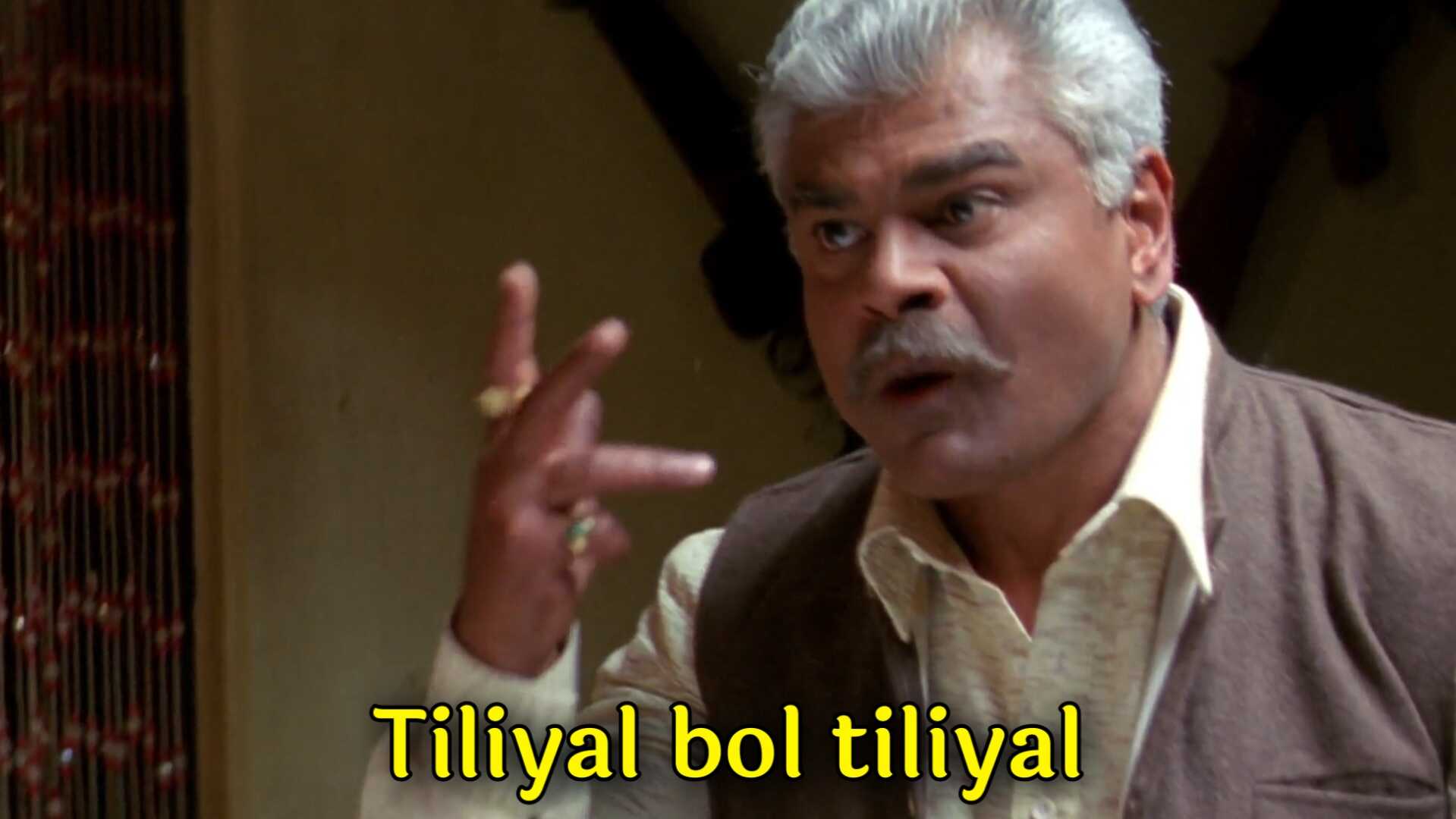 Ravi Kissen as Chote
Ae kya tutul putul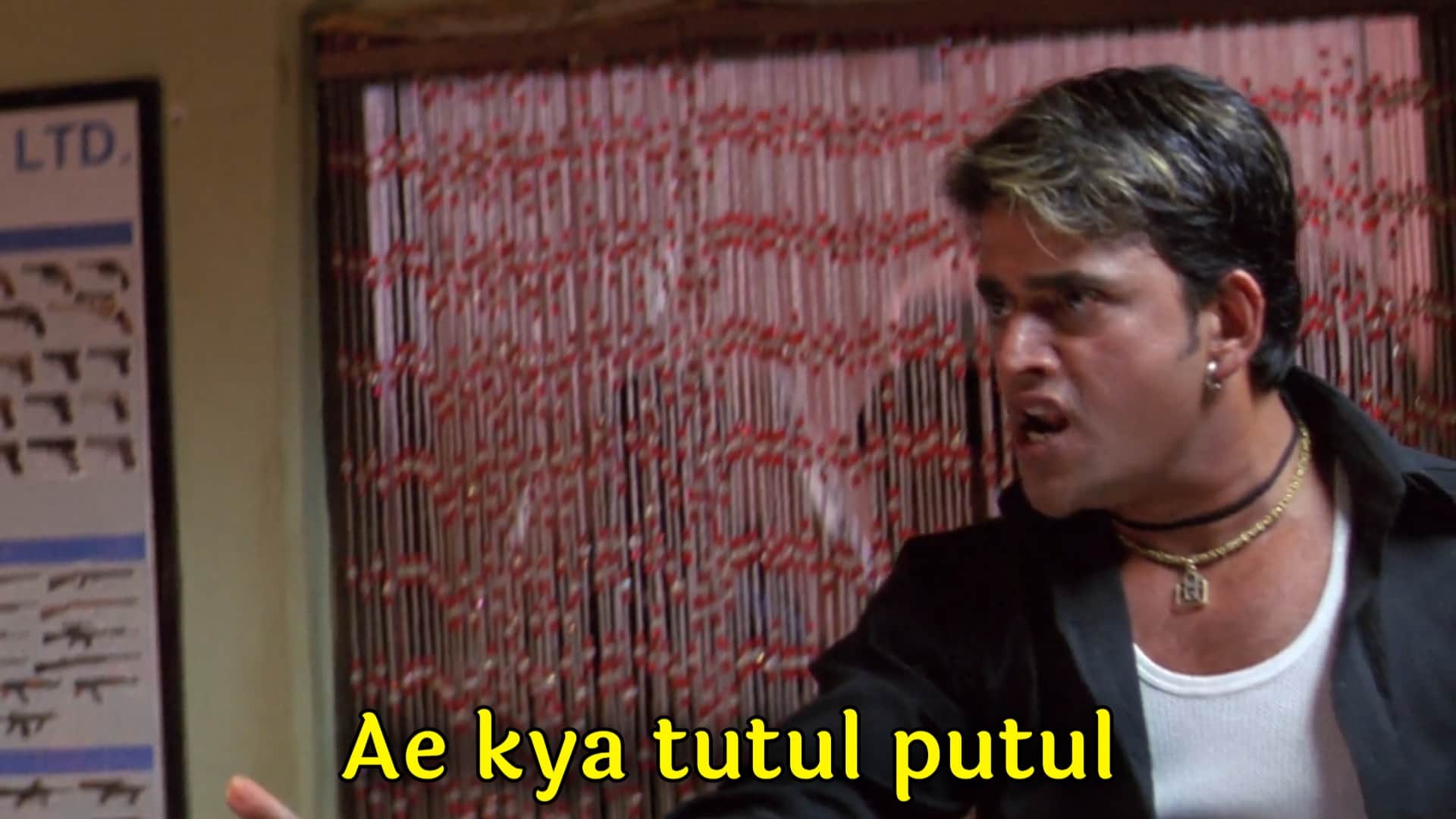 Kiku Sharda as Kanji 
Bhai aapka knowledge toh kamaal ka hai bhai