How To Use Memes For Marketing In India?
What Is a Meme?
A meme is an idea or behavior and digital version of jokes which are widely spread in community or culture.
We are consuming a daily dose of memes from various content creators and influencers and most importantly from the meme pages. Memes have become a part of our lives!
Meme Marketing In India
There are many meme creators who make memes just for people to laugh. And there are people who actually make those memes to promote their brand on Social media. Memes are the medium to connect with a group of people that you want to target. If Brands can add Memes to their content planner it will be great to attract more people!
How Are Brands Using Memes for Marketing?
Have you thought about How To Use Memes For Marketing In India? A meme can be the best way for brands to communicate with their Target Audience, Memes have the power to bring out the emotions of people
Nowadays companies using memes for advertising in India, most brands use memes in their Digital Marketing campaigns to gain engagement.
As we can see The gamer Changer Jio's contribution to Digital India's success. Brands now have a better idea that most of the population is consuming the internet like never before! With traditional marketing Digital marketing is also an integral part of marketing.
Non-offensive or controversial memes are a superb way to professionally catch an audience's attention.
How You Can Make Memes Using Tools/Platforms
Creating memes gets easier with photo editors and image editing tools such as Picsart for Mobile and Photoshop for Desktops! This design tool allows you to create and edit your memes.
If you are incorporating Indian Meme Templates or Marathi Meme Templates in your Memes you can use Bharatiya Vishwa, where you will get various popular and trending meme templates!
We can see how Zomato, Prime Video, Netflix India, Zerodha, and more are killing Social Media by sharing some hilarious crazy memes on their Social Platforms!
Zomato
Zomato is a very popular food aggregator platform that includes not only Delivery but also Cloud kitchen and many more services. they also use memes to engage with their customers by using trending topics and also for awareness! Here they used Meme Template from the Popular Web series TVF Aspirants.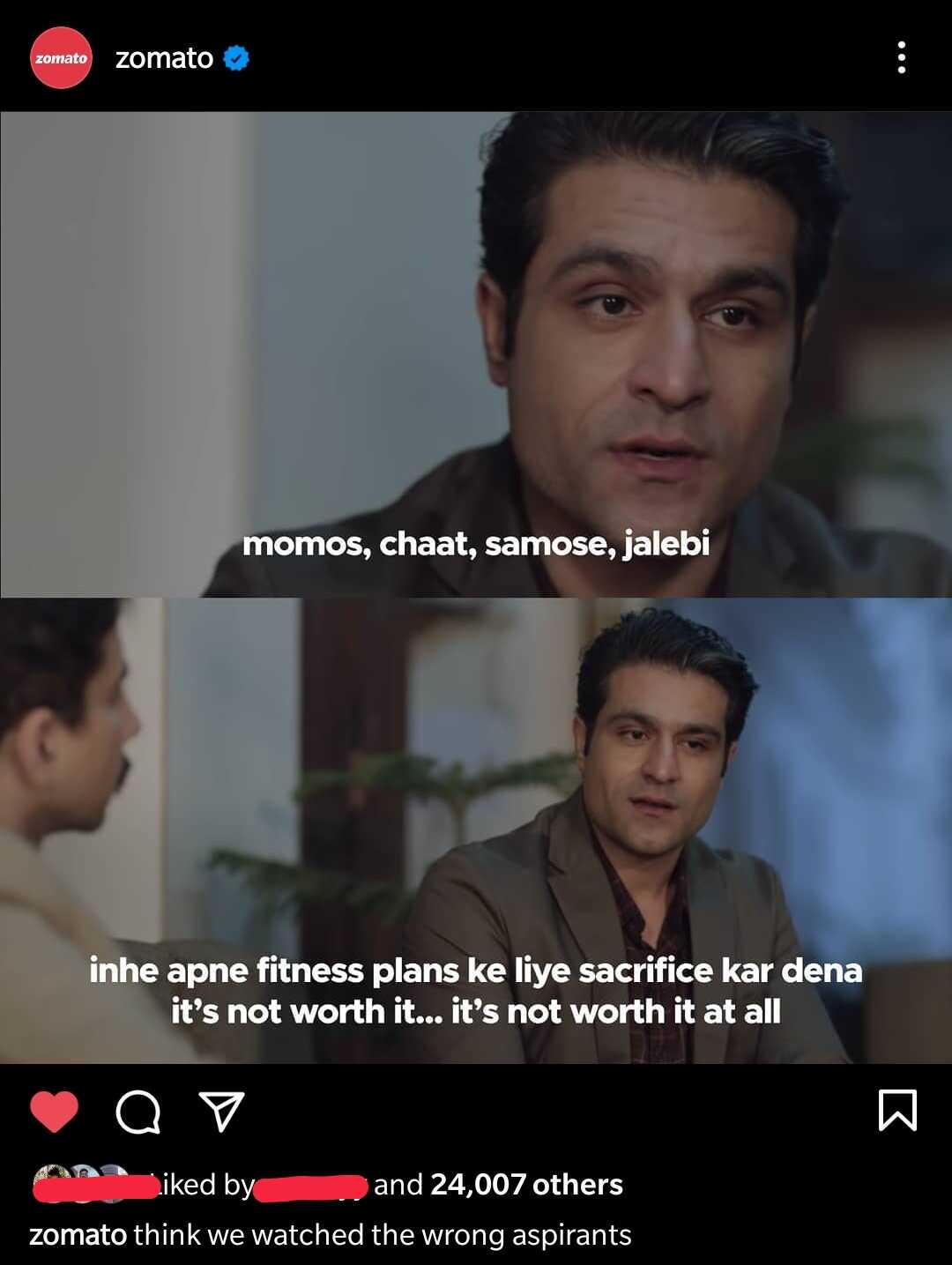 Zerodha
Zerodha is the largest stockbroker in India, with Zerodha you can invest in Futures and Options, Commodity derivatives, Currency derivatives, Stocks & IPOs, Direct mutual funds, Bonds, and Govt. Securities. Open a trading and Demat account online and start investing for free.
Here you can see how Zerodha Varsity (Free and open stock market and financial education platform) posted a meme and with that, they are promoting their educational platform.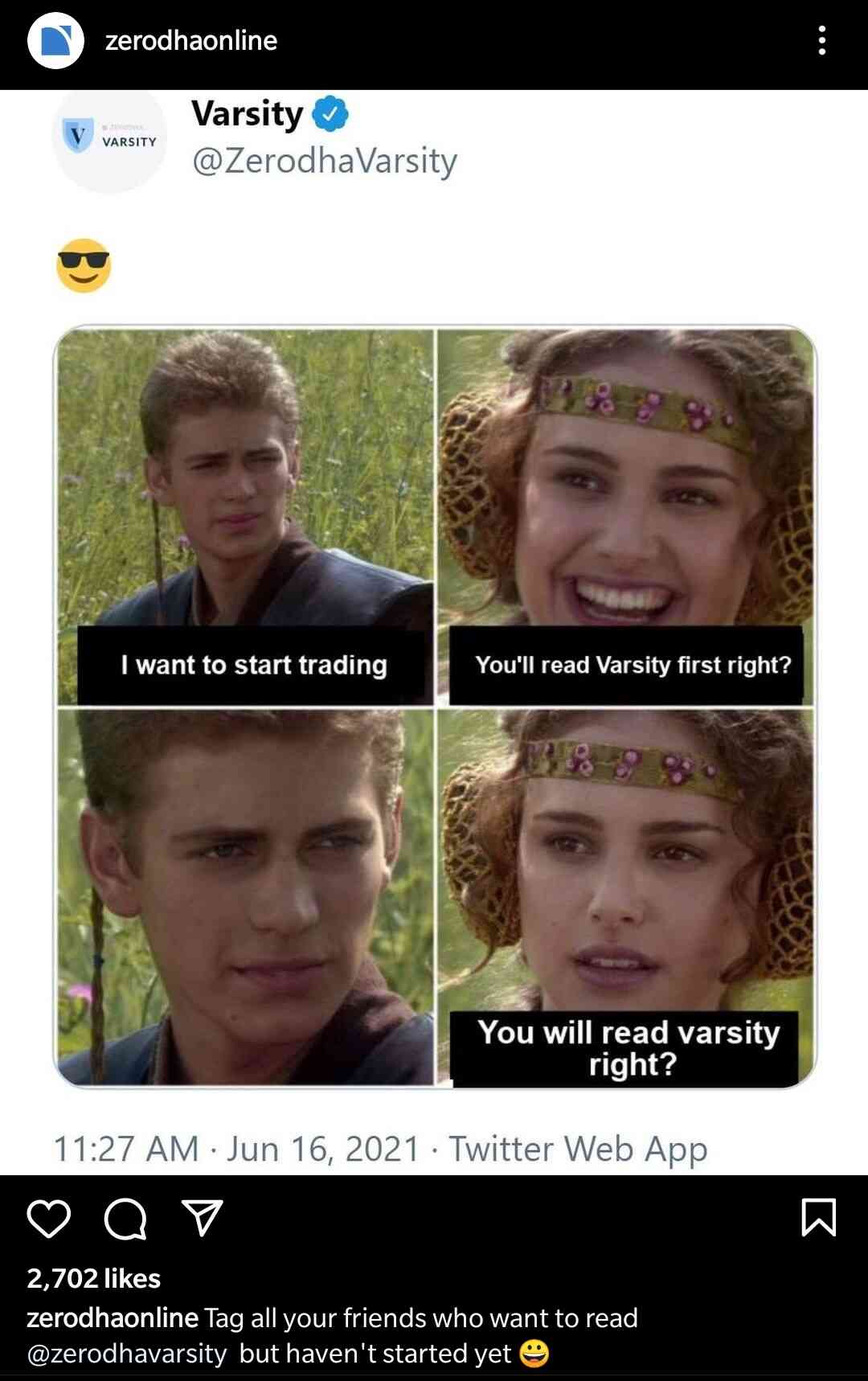 Prime Video
Prime Video is a streaming platform by Amazon where you can watch various types of Movies / Web series, they post memes to promote upcoming movies/ Web series or already streaming content! here we can see they used the most popular Golmaal Meme Templates.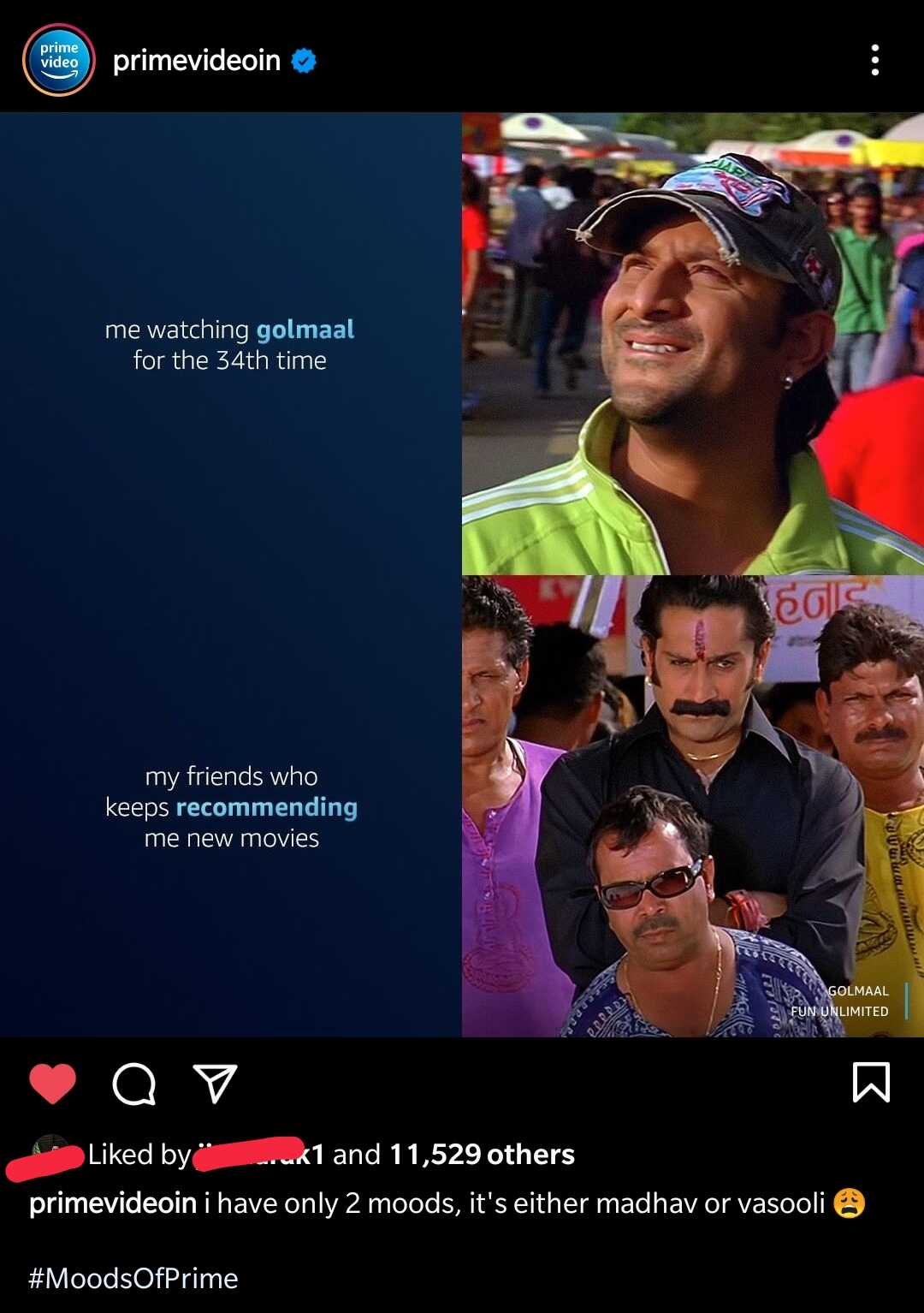 Netflix India
Netflix India is also one of the largest streaming platforms that use memes to engage and attract new viewers! here they used the Gangs Of Wasseypur Meme Template for how friends recommend any favorite show to their friends.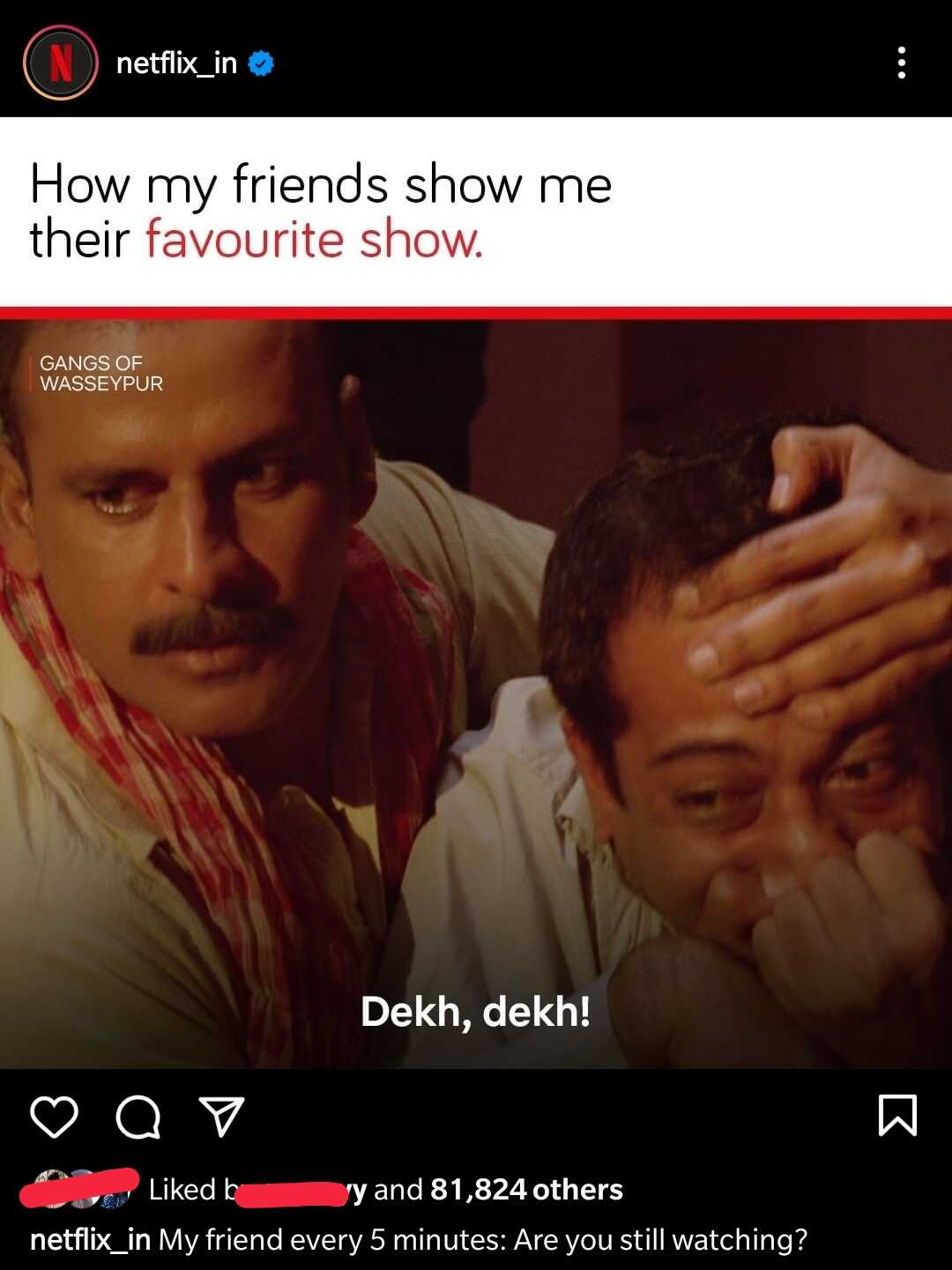 Mumbai Police
Now add on to these various departments of cops that are using memes for awareness, just look at the Mumbai Police Instagram account. here you can see how they used Mirzapur Meme Template for spreading social awareness about wearing masks.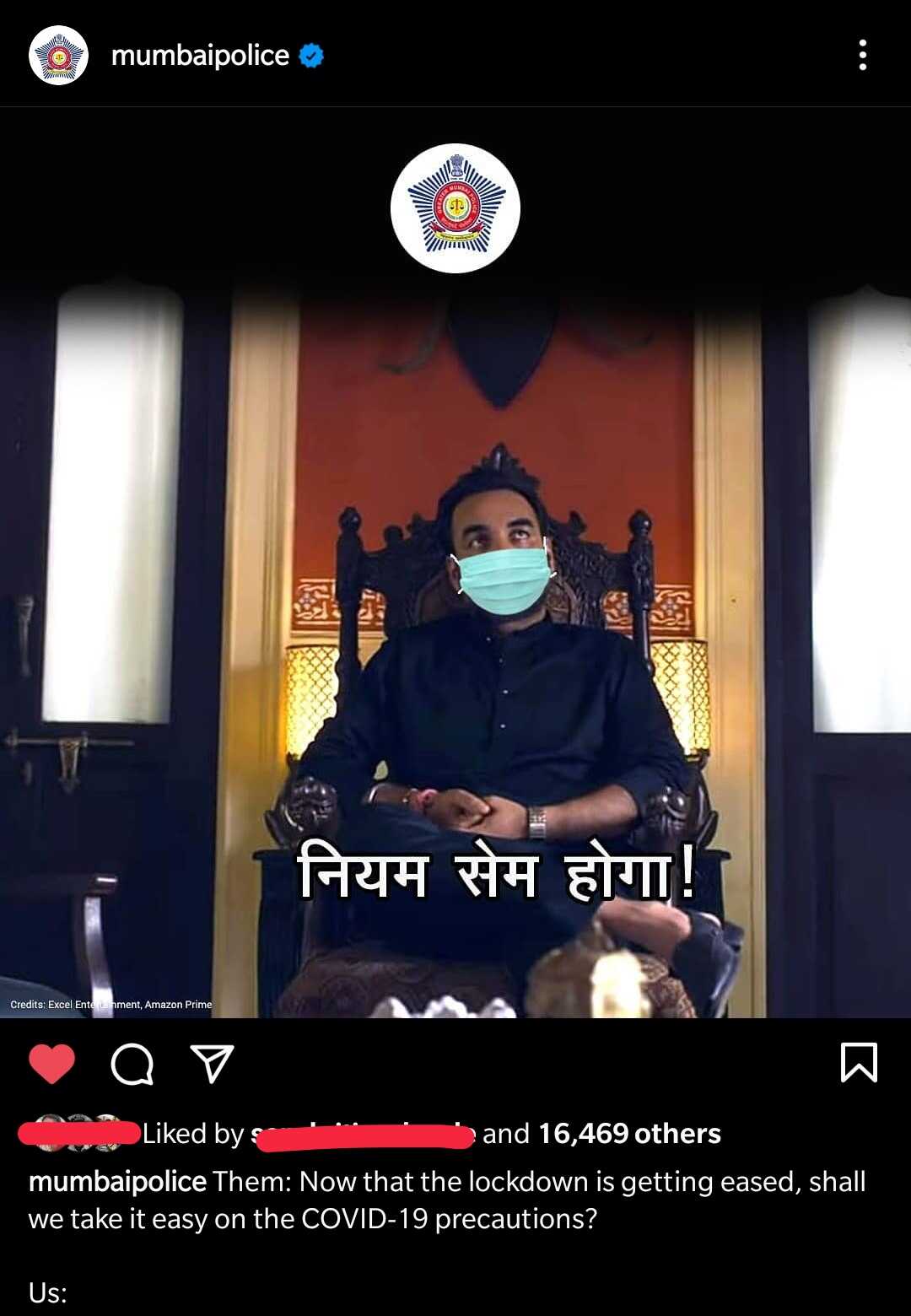 Meme Marketing Tips
Know Your Audience
Your main task is to get the idea of your audience which you want to target with your memes.
Target your products
Make memes to focus on the products and services that you provide.
Make Relevant Memes
If you are making memes that are purely related to your audience. the more you make relevant memes the more they will connect.
Merge your offers with the Memes
Create memes that include the offers which you are giving. Don't just spam your offers! make them more natural.
Keep an eye on Trends
The trend is one of the reasons behind the Viral Memes, you should keep checking social media platforms to check what's going on the Internet right now. This is the chance that your meme may go viral! Timing is a very crucial factor in making and posting that meme on the time.
Collaboration with Content Creators/ Influencers
By collaborating with various content creators and influencers (From Your Niche) them you can tell them to promote your memes on their social media platforms to gain more attraction to your brand.
Pro-Tip
There is no perfect formula for making memes, just do your research! be Creative and be Original.
Final Verdicts
If you use Memes in your planner it will be impactful, they are shareable content and can gain more new relevant audiences for you! It will be very helpful for your brand reputation. Give it a try you won't regret it!